Uncle Vanya
Anton Chekhov, translated by Stephen Mulrine
English Touring Theatre
Rose Theatre, Kingston
(2008)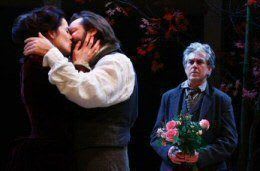 Had an Ibsenite catastrophe befallen the Rose Theatre in Kingston on its opening night, almost every London theatre would have been orphaned by the loss its artistic director. Indeed, in the case of the National Theatre, at least three would have perished, such was the turnout for the birth of this very special theatre space.
It might not have mattered that much, as a good number of the actors who might otherwise have been deprived of inspiration would have perished alongside them.
Everything at the Rose feels spacious and modern both in the front of house areas and auditorium. Inside, the £11m. theatre is pretty much round, with seating for 900 on three levels. The designers seem to have taken to heart recent prognostications on obesity, with seating width that would even surprise those used to travelling first class on planes (one imagines). My companion and I had space for another person on our double bench seat.
The audience are placed around a little over 200 degrees including a few seated on cushions on what looks like a very hard, varnished wooden floor. They observe action on a large, deep stage space backed by fashionable breeze block walls and lit by a system that looks the match of almost anything in the country.
Sir Peter Hall's Uncle Vanya in Stephen Mulrine's flowing translation was completed in only 2½ hours including an interval. This makes it brisk but at times it loses some of the charm that a more leisurely reading can offer.
Nicholas Le Prevost, in the title role, aiming for expansive gestures almost throughout spends much time bouncing around like a little puppy, in his enthusiasm for the woman with whom he is smitten, Yelena, played by Michelle Dockery.
This can get a little much and he is undoubtedly at his best in his character's more morose moments. He is at his funniest in a wonderful scene where the incredibly frustrated character, passed over by life, chases the lady's husband - Ronald Pickup's Serebryakov - off the stage firing a large pistol inaccurately.
Uncle Vanya is a tale of failed passion, as most of the once wealthy inhabitants of a sinking Russian estate pursue love in the most unsuitable places. While Vanya chases Yelena, she professes love for her husband, a man practically three times her age.
In fact, when the chips are down it is the handsome, if often drink-sodden, Dr Astrov who attracts her. He is played by Neil Pearson, with flowing hair and beard, looking like an eco-freak a century ahead of his time. This is highly appropriate, since this man is a vegetarian more in love with forests than humans.
His desire causes distress all around, since not only is Vanya driven to distraction and the pistol, but Loo Brealey's Sonya, a lovely hard-working girl with little joy in life, would love to become the doctor's wife and helpmeet.
As love fails, so does the community, with the Russian Revolution just around the corner and wealth leaking out to deprive them of their former comfortable lives.
In addition to the main characters, three experienced actors provide nice cameos. David Ganly, looking exactly like Vincent van Gogh once he dons a straw hat, makes a very human, dispossessed Waffles, while Faith Brook as the Dowager and Antonia Pemberton the nanny/servant bring rich depth to their characterisations.
Sir Peter Hall has gone all out for laughs in this English Touring Theatre production and one hopes that it appeals to the citizens of Kingston and brings them into their lovingly created new theatre in droves. The new artistic director, Stephen Unwin will certainly be hoping so, as 900 seats is an awful lot to fill every night.
Until 9th February, then touring to Bath, Cambridge, Brighton, York, Guildford, Newcastle, Milton Keynes and Malvern
Cecily Boys reviewed this production in York, as did Sheila Connor at Guildford and Peter Lathan in Newcastle and Pete Wood at Malvern
Reviewer: Philip Fisher