How Love Is Spelt
Chloe Moss
Bush Theatre
(2004)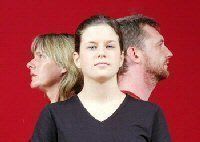 How Love is Spelt follows 20-year-old Scouse Peta (or Petra to awful Joe) on her first tentative steps in London bedsitland. She lives in an all too believable dive, created by Nathalie Gibbs.
In five episodes, a picture of her eventually builds despite many apparent contradictions, largely resulting from her own fantasies and lies.
We first encounter Peta, portrayed with feeling by newcomer Kay Lyon, on the morning after a one-night stand with Joe, well played by Joe Armstrong. He is a mouthy, cockney Jack-the-lad who regards sticking around in the morning as the measure of a long relationship. Peta stays clear and says little but when Joe attempts to get a second helping, she painfully despatches him, to the delight of all.
Welsh Steven (Roger Evans) is an unbelievably timid history teacher, complete with brown corduroy jacket, who spends his time trying to escape from a prospective sexual encounter.
The roles are reversed now and Peta becomes a vamp. She also displays the ability to act like a sponge, soaking up the words and attitudes of others and regurgitating them later. This meeting is most unsatisfactory from every point of view.
The mouthy Chantelle (Petra Letang) has victim written all over her but asks for trouble with a bold manner and lacy clothes. After Peta rescues her, Chantelle shows a desperate need for friendship that the frosty northerner is never likely to respond to.
After the interval, the plot begins to develop when the excellent Joanne Pearce arrives as maternal neighbour, Marion. With her nasal drawl and overriding desire to offer unwanted help, she is guaranteed to irritate. On discovering that Peta is pregnant, though, she does offer considerable support, after her own unique fashion.
Finally some, but by no means all, of the loose ends begin to come together with the advent of Colin Tierney's Colin. He is Peta's boyfriend and has come South to recover his absconded lover.
How Love is Spelt does not really ever build to a play rather than five short episodes. This is partly because even at the end, it is hard to grasp Peta's motivations. The only explanation that is wholly coherent is that she has suffered a major breakdown; and if this is the case, it is not clearly conveyed.
Chloe Moss is a young writer who creates interesting characters and some extremely funny lines. In time, she will undoubtedly write stronger plays with a better defined structure and rounder characters than she has managed here.
Reviewer: Philip Fisher