High School Musical - Live on Stage
Book by David Simpatico adapted from the script by Peter Barsocchini
Songs by Bryan Louiselle, Matthew Gerrard, Robbie Nevil, Greg Cham, Drew Seeley, Randy Petersen, Kevin Quinn, Adam Watts, Andy Dodd, David Lawrence, Faye Greenberg, Jamie Houston
Apollo Theatre, Hammersmith
(2008)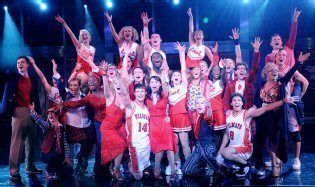 One shouldn't fall into the trap of taking High School Musical - Live on Stage at all seriously, or indeed thinking of it as a musical; it's more of an 'event', the sort of strange creation that might emerge from melding something like Alvin and the Chipmunks with a low budget panto (no offence to pantos).
Having seen HSM on ice and the 'on stage' tour I approached the Apollo Hammersmith full of good grace and with my expectations well thought-out. Not even the sticky auditorium carpet or the smelly loos dulled the cheerfulness. Armed with white wine I refused to be phased by the ocean of loud pre-teens, flashing bunny-ear hair bands and purple light swords.
High School Musical - Live on Stage is the theatre equivalent of the local 99p store. It has a useful place in this world bringing brief happiness to millions of kids by providing them with something fleetingly attractive but of no inherent quality. Unlike the 99p store, however, you could leave broke.
The undeniable truth is that HSM was a made-for-kids'-TV flic and Live on Stage is only that - a kids TV flic put on a stage complete with barely-drawn characters, Eurovisiony songs and a derivative story-line. Oh, and a cardboard-looking set identical to that used 'on ice' and 'on stage'.
That adults find it at best tolerable fun is of no consequence - adults are merely wallets here; it is kids who are the target audience and for them Disney have hit the nail perfectly on the head. In understanding that their key audience has the intellect to applaud the safety curtain - and does - they have made no effort to 'raise the game', and I am tempted to think that the two new songs written for Live On Stage are nothing more than a ploy to require grown-ups to buy another CD.
The 30-strong cast work hard and deserve any credit going because the staging is horribly crude and one scene where Darbus and Coach are upstaged by some monkey business stage right had me wondering where the director was during rehearsals. It probably hardly matters since the audience knows the story and anyway dialogue is only the boring bit before the singing starts again. The kids were loving it.
Drama Teacher Mrs Darbus declaims that her pupils must be "exposed to the arts by any means possible" and if this was in any way an example of art I might urge you to re-mortgage and take all the kids you know. But it is not and I am with Catherine Tate who dismissed as a disservice the premise that "it doesn't matter how we get people into the theatre".
By all means let us have High School Musical - Live on Stage but we also need the antidote! As we left the theatre I was thanking God for the Unicorn, London Bubble, Polka, Oily Cart, The Little Angel
"High School Musical - Live on Stag"e runs until 31 August 2008 with evening performances Tuesday to Saturday at 7.30pm and matinees on Wednesday, Thursday, Saturday and Sunday at 3pm. The running time is 2 hours 15 minutes including a 20 minute interval.
Visit our sponsor 1st 4 London Theatre to book tickets for High School Musical
Reviewer: Sandra Giorgetti