I Love You, You're Perfect, Now Change!
Book and lyrics by Joe Dipietro, music by Jimmy Roberts
Jermyn Street Theatre
(2005)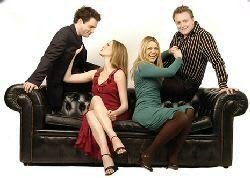 This cabaret-style musical revue has been running successfully off-Broadway in New York for ten years. It has played over 3,000 performances there, and been produced in no fewer than 150 different cities around the world.
According to the publicity material, this is a Broadway show but even though it has its own website and is something of a cult, this statement may be stretching the imagination just a little too far.
British director, Phil Willmott has created an English version especially for this production. However, despite a wide range of regional accents from around the United Kingdom, the character remains unmistakably that of New York.
Accompanied by a live keyboard player, Anthony England, the energetic cast of four, dressed as waiting staff, amply fill the small space with both personality and sound.
The first half is a wry analysis of the dating game that, at different points, will bring pain and smiles to most members of the audience. Right at the start, there is an excellent sketch featuring Mark Hilton and Jo Cook that gives a whole new meaning to the concept of speed dating. Other highlights before the interval include a focus on that age old movie problem, adventure or weepy; and the closing song, Wedding Vows, that points up everything bad about marriage.
After the break, the rest of life is incredibly condensed through the tedium of an evening with cooing new parents, the family car ride and a witty sketch about wooing when neither party is guaranteed to survive to the next date.
The best of the singing is provided by John Payton and Lucy Hunter-James, the latter having an overly effusive acting style but a strong and very attractive voice that is put to good use.
In front of a Garden of Eden motif designed by Cleo Petit, the foursome sing, dance and joke their way through 100 minutes in what is described as "a whirlwind tour of loving and leaving and wanting more".
For anybody who wants to get the feel for an off-Broadway cabaret show this is a perfect sampler. It may not have great depth but it contains varied music, some fine comic moments and very slick production values.
Reviewer: Philip Fisher