Jeffrey Bernard Is Unwell
Keith Waterhouse
Organised Chaos Productions
Studio Salford
(2010)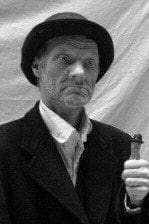 It is hard to imagine a more appropriate and atmospheric setting for a production of Keith Waterhouse's classic play Jeffrey Bernard Is Unwell than a public house notable for its real ales and arty clientele.
Like the original Coach and Horses at the heart of Soho in London, Salford's King's Arms, the home of Studio Salford, brims with character and traditional ornate plasterworks, as well as a scratched wooden bar that must surely have propped up punters since time immemorial. Although Organised Chaos' account of real-life journalist Jeffrey Bernard nestles in the building's charming domed performance space, the company would have done just as well using the downstairs pub.
Jeffrey Bernard is Unwell is often remembered as a one-man show and there is a good reason for this: Peter O'Toole's superlative performance both on stage and in the filmed version of the play. The genius of Waterhouse's script, punctuated with classic one-liners and wicked anecdotes, demands a world-class portrayal. Comparisons with O'Toole may be unfair and undeserved but they are inevitable. He showed what could be done with the role and the dialogue.
As the protagonist, Phil Dennison certainly looks the part. As the audience takes their seats, he is curled up in on stage using his coat as a pillow, barely visible through the gloom. Once he finds the light switch, we see a dishevelled individual wearing a crumpled suit and in desperate need of a shave. His hands shake as he lights a cigarette and he has trouble easing off the top of a vodka bottle. As he takes a long, satisfying draw on a John Player, his face looks ready to cave in. This Jeffrey Bernard hasn't got his teeth in.
It may have been first night nerves but Dennison raced through the monologues. More dramatic pauses would have greatly enhanced his performance, as would a more nuanced delivery of the lines. As the first half wore on, he seemed less and less like a drunk reminiscing on a life of debauchery and increasingly like an actor reading directly from the script. But Dennison improved greatly in the second half and seemed more comfortable with the tragicomic elements of the play. And he excelled in the set pieces with the versatile supporting cast.
Called upon to depict an array of Bernard's acquaintances, ex-lovers, colleagues and friends, Edward Barry, Simon Griffiths and Zoe Matthews gave impeccable performances but Samantha Vaughan was the stand-out member of the ensemble.
At under two hours, Jeffrey Bernard is Unwell is a decent length but such was Waterhouse' prowess, the audience was left wanting more. "Why do you drink so much, Mr Bernard?" asked the landlord. "To stop myself from jogging," Bernard replied. Later, when caught running an illegal betting book, Bernard was asked about previous misdemeanours. He responded, "I was once nicked for going over the top with a rubber plant in an Indian restaurant."
The cast delivered the two highlights of the play with aplomb: a round of applause greeted Dennison's sleight of hand with a glass of water, a matchbox and an egg while the thrill of cat-racing was brilliantly exploited.
Organised Chaos's production, under the auspices of Studio Salford, is a bargain for £7. But make sure you have a pint in the cosy embrace of the King's Arms bar after the show. It's what Bernard would have wanted.
From 17th November to 20th November 2010
Reviewer: Helen Nugent