Disco Pigs
Enda Walsh
Young Vic Clare Studio
(2011)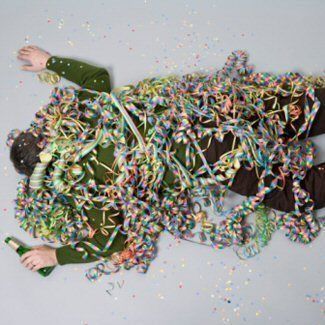 The winner of the James Menzies-Kitchin Young Director Award is given carte blanche to direct a play of their choice in a mainstream theatre.
The venue is now the Young Vic's Clare Studio and the play selected by Cathal Cleary to show off his talents is Enda Walsh's paean to unbridled youth, Disco Pigs.
It may not be deliberate, since Cleary can only have been a child when Pat Kiernan's original production for Cork's Corcadora Theatre Company to all intents and purposes launched Enda Walsh's career fifteen years ago, but this version could almost have been created in deliberate opposition to it.
Where Kiernan demanded the pacing and tempo of a runaway train, this new version relishes every moment and offers space for reflection. As such, the running time is now 80 minutes compared to probably only an hour or so back in 1996/7.
The design budget first time around might have been 20p for all of the props that weren't there, where the 2011 stage is packed with witty aids to elaborate on the words. There are mannequins and Barbie dolls, plastic food, Brechtian signs and disco paraphernalia plus a much-used, nouveau vintage cassette player.
Even so, the beauty of Disco Pigs lies in the language. Walsh's invented Irish patois is used to tell the story of two youngsters growing up together in Pork Sity. Pig and Runt were born within seconds of each other and, as Darren and Sinead, brought up together in adjoining houses.
We meet them on the occasion of their mutual 17th birthday, as Runt suddenly grows up, while her oldest friend in all the world remains determined to play up to his reputation as a bad boy teen.
Overnight, their ambitions have diverged and the consequences in both the short and long terms are what the director has worked so hard to bring out.
This was the play that launched Cillian Murphy and Eileen Walsh on to the wider world and there is every chance that it could do the same again for the current performers.
Rory Fleck-Byrne catches Pig's combination of neediness and confident aggression and has a winning way as does Charlie Murphy, who has already begun to build an impressive CV in Ireland. She gives Runt an unexpected softness but also charm, although on occasion Miss Murphy's accent can be difficult for untrained English ears to penetrate.
Cleary has invented a new play from an old one. Gone are some of the humour and elements of the breathless energy. In exchange, he works hard to wring out all of the pathos and emphasise the collapsing relationship between not quite twins who have hardly been divided since birth.
There is no doubt that Cathal Cleary is a very talented and imaginative young director. Repeatedly, he shows flashes of brilliance that herald a bright future. Whether this overly thoughtful but at times deeply touching reading of Disco Pigs will appeal to those that have seen the original though, may come down to individual taste.
Reviewer: Philip Fisher