Beautiful House
Cathy Crabb
Library Theatre, Manchester
(2010)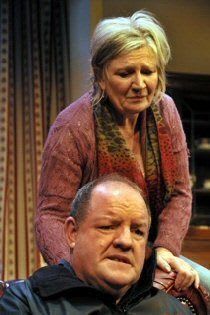 Beautiful House by prolific local playwright Cathy Crabb has had quite a journey over the last couple of years or so, from opening at leading fringe venue Studio Salford in November 2007 to its inclusion in the Library Theatre's 'best of' festival Re:Play in January 2009 and now a full professional production by that same theatre as part of its regular season.
Set in a block of flats in a working class district of Manchester, retired teachers Ronnie and Bridgette have given their £500,000 country house in Delph to their terminally-ill daughter Emily and her husband—whom they both despise—for the remainder of her life and moved into this tiny flat above young couple Paula and Otis and their little girl Charlotte (named after a spider). What follows is on the face of it a classic 'fish-out-of-water' comedy—sort of The Beverley Hillbillies in reverse—as Bridgette can't adapt to her surroundings or her neighbours while Ronnie tries to make the best of it all.
The play received many plaudits as a fringe piece, but now it is included in the main season of a leading regional theatre it will come under closer scrutiny. The basic premise is a great idea with some good twists in the story and the characters are well-chosen to put the story across. There is a lot of very effective comedy which tends rather more towards the broad than the subtle, but it certainly worked on the belly-laughing press night audience.
There are, however, some loose ends and inconsistencies in the plot and characters. Although toned down considerably since the original production, Bridgette still exhibits a coarseness of language and manner that doesn't seem to fit with her background and status. Although there is a lot of talk about the unseen character of Emily, we find out surprisingly little about her or her relationship with her parents, and so when she acts in ways that her parents interpret as getting back at them it is difficult for us, the audience, to judge or understand why.
Whilst the comedy largely works well, the serious moments can often be indulgent with lengthy monologues and raw emoting, although these are incorporated more naturally into the current production than they have been previously. One scene gives the actor playing Paula a great monologue to Bridgette about how she has done up the flat that works well as a comic set piece and got her a round of applause, but as everything important in that scene is dealt with in a couple of lines when Bridgette returns home it doesn't need to be there at all.
Interestingly for a female playwright, the women are portrayed as gossipy and bitchy and worried about what others think and there is also a hint that they are more concerned with things than people—Bridgette with her house and furnishings and Paula with her Egyptology ornament collection—whereas the men are the peacemakers who love their daughters to the point of over-indulgence. Although Crabb has said the play began with an angry idea about young people being unable to buy a house for their families, there is little left of that in the current version which is more a comedy about parents and their children and a look at class in the current world.
Noreen Kershaw's sensitive direction has found all the comedy in the script without sacrificing the warmth and the sadness. John Henshaw gives a very nice performance as Ronnie, and Janice Connolly is perfect as Bridgette. James Foster is the only survivor from the previous production and he shows he deserves to keep his place on the team with a great portrayal of a lovably-pathetic but also loyal and loving Otis. Sally Carman's Paula goes all out for the dumb blonde laughs and hits them all but doesn't find much of the subtlety or warmth that writer Crabb brought to the role until near the end.
Bringing this play into the Library's main season is more than a worthy gesture as it has much to commend it, especially the crowd-pleasing comedy, but it still has plenty of rough edges that the theatre could perhaps have helped to smooth if it had the resources to develop new work rather than just produce it. However it is great to see the Library championing local playwrights in this way with a production that is polished and enjoyable despite its flaws.
Running until 8th May
Reviewer: David Chadderton