Gates of Gold
Frank McGuinness
Library Theatre, Manchester
(2009)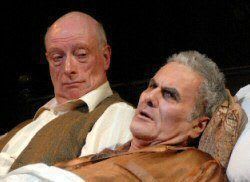 After its big success with Someone Who'll Watch Over Me nearly two years ago, Manchester's Library Theatre returns to Irish writer Frank McGuinness for its latest production, directed by Rachel O'Riordan.
Gates of Gold is loosely based on the lives of actor Micheál MacLiammóir and director Hilton Edwards who formed the hugely-influential Gate Theatre in Dublin in 1928 and who lived openly as a gay couple at a time when it was illegal to do so. The play is set when Gabriel (the fictionalised MacLiammóir) is dying from a combination of a heart complaint and cancer and Conrad (Edwards) brings in a private nurse, Alma (the only genuinely Irish character in the play), to look after him. There are unresolved tensions between Gabriel and Conrad, but Alma strikes up a good-natured sparring relationship with her sick client, which encourages him to open up to her – and her to him. However when Gabriel's dizzy sister Kassie arrives, who shares her brother's fondness for fictionalising their own lives, her rather pathetic son Ryan seeks to profit from his uncle's situation.
The play can seem little depressing in its subject matter at times as it lingers on thoughts of death and the pointlessness of life, but it is cut through with some sharp wit that often diffuses dark philosophising with a big laugh. Diego Pitarch's set cleverly gets around the problem of having two rooms on such a tiny stage by making the whole stage into the living room and putting the bedroom with cutaway walls right in the middle of it, which works really well. Sound designer Paul Gregory links the scenes with just a simple loud, pounding bass thump, which is very effective but causes some buzzing vibrations somewhere in the room.
Oliver Cotton gives a wonderfully-relaxed and natural performance as Gabriel, with a strong supporting performance from Caitlin Mottram as Alma. Ian Barritt plays Conrad as bitter and rather cold towards Gabriel, because of Gabriel's jibes about infidelity and perhaps because he is angry with him for dying and leaving him. Patrick Knowles is wonderfully pathetic as Ryan, whom he plays as a completely useless young boy whose feeble schemes for bettering himself are just appeals for a father figure, or just for some affection. Marty Cruickshank as Kassie is suitably dizzy if a little vague.
This certainly isn't a happy or uplifting piece of theatre, nor is the plot action-packed, but McGuinness has skilfully crafted his script to inject plenty of really funny humour and some profound philosophising into the natural flow of the story to keep an audience interested in the characters. The Library has created another very strong production of a relatively recent play from a leading playwright that is well-worth seeing.
Running until 11th April
Reviewer: David Chadderton