Great Expectations
Charles Dickens, adapted by Neil Bartlett
Library Theatre, Manchester
(2008)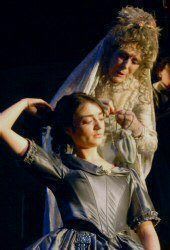 The Library Theatre's Christmas offering this year is an adaptation by Neil Bartlett, who recently brought his RSC production of Romeo and Juliet to Manchester and will return with his second Manchester International Festival commission next year, of Charles Dickens's not particularly festive story Great Expectations.
The production was originally advertised as being co-directed by associate director Roger Haines and physical theatre practitioner Liam Steel, the team behind last year's very visual production of Tom's Midnight Garden, but Steel's name disappeared from the production team at some point in the last couple of months. However Haines has stuck with the physical style of production that we would have expected from his partnership with Steel.
The story revolves around the young orphan Pip who is raised reluctantly by his sister and her blacksmith husband, is invited by the bitter old woman Miss Havisham to play in her large house where she lives with her pretty ward with a nasty tongue Estella and is then funded by a mystery benefactor to become a gentleman.
The script, like so many literary adaptations for the stage, relies very heavily on character narration, mostly from Pip, who narrates as an eloquent adult even when he is acting in the scenes as a shy child, but other characters occasionally turn to speak to the audience as well. In fact this adaptation is a turbulent mixture of short acted scenes, lengthy linking narration and other less-defined parts where multiple scenes are disposed of in a short burst of lines from different characters in quick succession or ghostly voices echo lines from past scenes to haunt our hero.
Michael Pavelka's impressive and very active set is fairly bare apart from a large gong at the back and a large number of doors that slide on tracks to become walls, gravestones or even just doors in various configurations, the whole thing decorated to look like it was made from roughly-riveted metal panels. Occasional use is made of video projections from video artist Matt Spencer on the gong, doors and even a held-up tablecloth to create real objects on the set or more abstract or atmospheric effects, which work very well and fit in with the overall style. Richard Taylor's often harsh and abstract music also adds very effectively to the overall style of the piece.
Leon Williams is superb as Pip, delivering a huge amount of narration clearly, getting subtly but noticeably older and 'posher' as the play progresses and really holding the whole production together with great skill and charm. Helen Ryan could not be more perfect as Miss Havisham, and Claire Redcliffe also creates the character of Estella just right. As the criminal Abel Magwitch, whom Pip helps out on the moors as a boy, Richard Heap again looks just right and judges the character perfectly. Other members of the company, all playing multiple characters, are Carolyn Tomkinson, Ian Harris, Paul Westwood and Timothy Speyer.
The Library has produced a beautiful-looking production with some wonderful ideas and styles in it, but there is something about the rhythm and the pace of the whole thing that doesn't quite work, making it seem a little disjointed and rather slow at times, particularly as it trickles slowly towards the ending. The technical slickness of the rapid changes of scene and scenery is impressive to watch but it is difficult to get emotionally involved with the characters when everything is hurtling past at such a pace. There is a lot that is impressive about this production that makes it worth seeing, but it is far from perfect.
Running until 17 January 2009
Reviewer: David Chadderton