Matthew Bourne's Cinderella
Music by Prokofiev, choreography by Matthew Bourne
New Adventures
Sadler's Wells
(2010)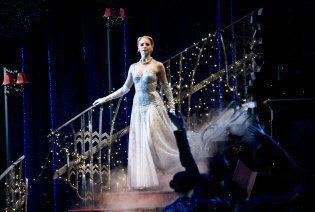 Matthew Bourne's latest revision of his 1997 Cinderella production, set during the London Blitz, comes with brilliant new sets and costumes from his regular designer Lez Brotherston, loud surround sound (design Peter Groothuis), a new recording of Prokofiev's wonderful score with added soundscape - all the stops pulled out for an entertaining night out at the cinema.
Yes, the cinema, the cinema brought to living breathing life. Bourne wears his love of the silver screen in his heart and on his sleeve, and his recollection is fulsome. Powell and Pressburger's A Matter of Life and Death, Brief Encounter, a Joan Crawford stepmother (Michaela Meazza is the star of the night), and colour Cinderella's silver slippers red and what do you get - Dorothy, that's right.
The look is a stylish mix of Ernst Lubitsch, Fred Astaire, and British newsreel. A backcloth of barrage balloons, gasworks, bombsites, and St. Paul's lit up by a red glow. Cinderella does not go to an eighteenth century ball, but to the Café de Paris in Piccadilly, which took a direct hit in March 1941.
Written as it was in the 1940s, interrupted by the war, Prokofiev's dark music makes sense in this context, even though he did have eighteenth century ballet in mind. Bourne's response is instinctive and intelligent.
This is not a reworked classical ballet, but a smart marriage of dance and Hollywood glitter. There's a lovely moment when Cinderella dances dreamily with a tailor's dummy, which becomes her injured airman - very Coppélia, very Gene Kelly. It is ballet reinvented as popular musical theatre, and nothing wrong with that. Hollywood made the same escapist movies with little variation for many years.
The sameness of the choreography is compensated for by big numbers, clever characterisation and wit. Cinderella now has not just two ugly sisters but a brood of siblings, one a foot fetishist, one gay, one a mummy's boy, and two sisters.
Her fairy godmother is an angel in a white suit, based on the Marius Goring figure from A Matter of Life and Death, who whisks her off (white trench coat over her grey woolly skirt and cardy) in a white motorbike and sidecar. Her father is a shell-shocked shell of a man in a wheelchair.
And some visually stunning scenes (Neil Austin's lighting is delicate, thawing and warming skin tones as the tale progresses): grey set, grey clothes, grey props and grey skin in the first act, then the flashes of red tablecloths and red carnation in the second Café de Paris act, the stepmother's black lace evening dress contrasting with Cinderella's white and silver Ginger Rogers' frothy gown.
White-clad airmen fill the stage, waltzing couples, white-coated doctors parade with white screens in miniature Busby Berkeley style in the hospital where both Cinderella and her concussed airman are taken, and where her stepmother tries to smother her. Attention to detail is immaculate.
Brotherston's loving recreation of a period that was said to have brought the best out of people - the London embankment (Waterloo Bridge 1940 film), Paddington station, the underground with its spivs and prostitutes, air raid sirens, ARP wardens strafing the stage and audience with torches, searchlights, the Sally Army, the Military Police, scary gasmasks - adds atmosphere, depth, and meaning.
One cannot help but warm to Bourne's sentimental nostalgia for the Hollywood glamour that so fascinates him, and the celebration of the camaraderie of the war years, and the concomitant freeing of social mores that came with it. Cinderella gets to spend the night with her prince before she loses him again.
The curtain call reinvents Prokofiev's grand waltz as a big band swing number, which sends the audience out into the cold dark night in a good mood. Who can ask for better than that at Christmas?
Till 23rd January 2011
Reviewer: Vera Liber