A Midsummer Night's Dream
William Shakespeare
Headlong Theatre and the Nuffield Southampton in association with Hull Truck
Salisbury Playhouse and touring
(2011)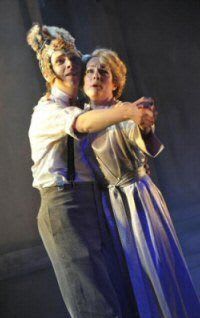 Of several performances of Shakespeare's A Midsummer Night's Dream seen in a long career of community theatre, journalism and theatre writing, the most memorable are a production for Salisbury Festival at Fonthill Bishop, with full orchestra and Mendelssohn conducted by Richard Hickox, an amateur production in Salisbury Cathedral Close, again with full orchestra, and Peter Brook's remarkable production for the Royal Shakespeare company in 1970.
It says much for Natalie Abrahami's imaginative new production for Headlong (Salisbury Playhouse this week) that it prompts comparison with these outstanding stagings.
This account transposes the play from traditional leafy Athenian settings to a 1960s Hollywood film lot.
Theseus and Hippolyta (Justin Avoth and Emily Joyce) are Hollywood legends Burton and Taylor, something which I doubt is immediately apparent to the young English students of today. They double as Oberon and Titania and it is here that the transposition begins to fail.
The magical aspect of the play is for me such a quintessential element that this diminution threatens the whole structure. Magic is not easy to convey at any time to cynical audiences and this cinematic simplification of mystery into "director" Goodfellow's finger-snapping, is a device too far. Nothing, however, should detract from Sandy Grierson's colourful star performance as Puck and Goodfellow.
As for the mechanicals, here they are the film crew and their famous Pyramus and Thisbe performance, far from being tedious, seems to have ended largely on the cutting room floor; with David Shaw-Parker's excellent Quince left to play most of the parts.
The lovers - energetic performances by Max Bennett (Demetrius), Oliver Kieran-Jones (Lysander), Fay Castelow (Hermia) and Deidre Mullins (Helena)- are bit-part actors who sadly shed their eye-catching costumes for the relative anonymity of their ordinary lives.
I doubt this production will be as much talked about as Brook's. That would be claiming too much since it is arguable that an excellent, almost inspired, concept does not altogether work as it might. However, the evident delight of a young audience at Salisbury, and others before them, is a tribute to the achievement of this young company.
Imaginative staging is by Tom Scutt with excellent screen titles and cinematic rushes contributed by the video design team.
Those of us who like our Shakespeare as the writer intended may feel this treatment doesn't quite work as it might. Nevertheless, I would not like to be among Playhouse audiences leaving next month's performance of Guys and Dolls remarking, "I preferred The Belle of New York"!
"A Midsummer Night's Dream" continues at Salisbury Playhouse until Saturday 19th March, then touring to Glasgow and Cambridge
Robin Strapp reviewed this production at the Nuffield Theatre, Southampton
Reviewer: Kevin Catchpole