A Midsummer Night's Dream
William Shakespeare
Shakespeare's Globe
(2008)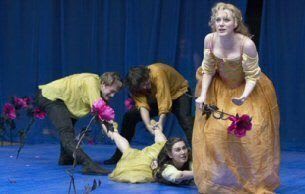 This must be the best Midsummer Night's Dream for many years and will undoubtedly be one of 2008's theatrical highlights. Following Dominic Dromgoole's thoughtful, funny King Lear, it bodes well for a Globe renaissance and will be one of the hottest tickets of the year.
Almost everything that Jonathan Munby, his designer Mike Britton and the acting ensemble attempt comes off. On a soaking evening, a measure of their hold over the audience was a packed pit filled with sodden groundlings, even after the interval when callow visitors usually reckon that they have had their fiver's worth and retire to the pub.
From black opening to white finale, Britton has gone for a colourful, Pre-Raphaelite design ethic with the stage swathed in blue cloth. The actors represent a complete rainbow from the toffs personified by Hippolyta, looking uncannily like Ellen Terry's Lady Macbeth, to pink and purple spirits led by Puck in an amazing, turquoise Technicolor Dreamcoat and the pastel-shaded rude mechanicals.
To this is added Olly Fox's jazzy Celtic-influenced score with a number of tuneful songs and some well-choreographed dance courtesy of Siân Williams and her fairies.
The Athenians led by the ladies, Pippa Nixon as frustrated Hermia and Laura Rogers particularly good as the constantly wounded Helena, are quite seemly at home.
Once they enter a flower-strewn wood though, inhibitions disappear and the colour co-ordinated pairings go into splendid slapstick battle with Miss Rogers almost torn in two after becoming the human rope in a tug of war between competing wooers, Lysander and Demetrius (Christopher Brandon and Oliver Boot).
The would-be lovers are aided in this by a capriciously Puckish Lancastrian Puck, Michael Jibson. He causes comical mayhem egged on by Tom Mannion's Scottish Oberon, seeking retribution for the behaviour of his foul-tempered Queen Titania, (Siobhan Redmond, also using a lilting accent from far north of Hadrian's Wall).
At the same time, honest Nick Bottom the weaver turns into a loveable ass thanks to the fine efforts of Told By An Idiot's Paul Hunter on top form. He strikes it lucky as the paramour of the beautiful, fairy Queen tipsy on love potion but at the expense of scaring off his prosaic acting confrères.
Following the kind of disastrous prologue from Michael Matus as Peter Quince that must terrify any prospective director; the amateurs take a fine evening into the stratosphere with their portrayal of tragical Pyramus and Thisbe.
One might expect Hunter to excel and get applause for his character's extended death throes in the leading role in this hilarious, bawdy attack on poorly-cast thespians. He is not alone, as Jonathan Bond playing the Wall in character and especially Sam Parks as a Moon waning out of sight with stage fright delighted the audience, the latter getting a loud spontaneous ovation.
Do not miss out. You might never again see as good a version of A Midsummer Night's Dream and innumerable laughs are guaranteed from this fine cast, given perfect direction by Jonathan Munby, who shows the lightest of touches throughout and a great feel for the play's comic possibilities.
Playing until 4 October
Reviewer: Philip Fisher