Othello
William Shakespeare
Northern Broadsides and West Yorkshire Playhouse
The Quarry Theatre, West Yorkshire Playhouse, Leeds
(2009)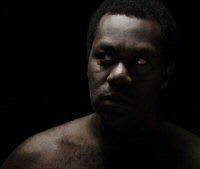 Last night in the Quarry Theatre we had Northern Broadsides at its best - full theatre, excited audience, the Bard made accessible. Drawbacks? Of course, every production has its drawbacks and Broadsides has its own characteristic ones: a lot of shouting and stereotyped 'my girl's a Yorkshire girl' women to name but two. But who can fail to be grateful to Barrie Rutter for creating and firing this company that so successfully delights regional audiences and fills our theatres?
The USP for this production of Othello is that it features Lenny Henry in the title role. So there's a tension in the house, will Lenny pull it off or goof it up? Cut it short. No goofing. Henry stays well in role and the audience don't tempt him out with inappropriate laughter. He remains a solid, near stolid Moor, a tragic Homer Simpson. No man should fall into such a mess of deceit and rather justifiable jealousy. He has our sympathy.
But there is more laughter in the theatre thank one would expect for this play, as if displaced. Iago gets quite a bit of it. Conrad Nelson's Iago is an out and out scheming bad man, a viper if ever there was one. He shares his victories, let's us into his machinations and yet, curiously, gives nothing away. In other productions we might ask 'why?' What has made such a man. But here we are locked into the surface of the text - it's a night of story telling. A perfect treatment for those who must 'do' Othello for the sake of examinations. Nothing to get in the way of familiarisation with the text; memorable moments; clear speech.
Yet again, thank you Broadsides for what you do so well.
Running to 14th March 2009
Touring to Scarborough, Coventry, Bath, Kingston, Newcastle-Under-Lyme and Halifax.
Steve Orme reviewed this production at Newcastle-under-Lyme. It was also reviewed by Anita Butler at Trafalgar Studios.
Reviewer: Ray Brown