Othello
William Shakespeare
Northern Broadsides
Trafalgar Studios
(2009)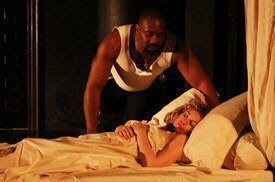 If the success of Othello rests on us believing that a newly married man, deeply in love with the perfect wife who deeply loves him back, will succumb - quickly and without real proof - to the machinations of another, then Barrie Rutter's production, a co-production between Northern Broadsides and the West Yorkshire Playhouse, is the personification of 'success'. Wow, this is good!
Huge interest (and I would imagine, pressure) lies on the shoulders of Lenny Henry, known and beloved comedian and television star, who made his first foray as a Shakespearean actor in the production's initial run in Birmingham earlier this year.
Anyone slightly doubting what they might see with regard to acting ability must prepare to be totally humbled. Henry blows your socks off: a commanding figure with a mellifluous and powerful voice who seems to have been blessed with an innate understanding of Shakespearean diction, and presents an Othello with whom we love, laugh, and weep in equal measure: his towering frame is offset by the tiny Jessica Harris who plays a sweet and gutsy Desdemona, ever fighting her corner to the bitter end.
I heard people around me name Conrad Nelson the best Iago they had seen and it might be fair to say that the night belongs to him: he is a magnet, drawing us to his every move, nuance and gesture, playing Othello's galled servant with a soldier's duty and precision (beret ever at the correct jaunty slant) as the green juice of his own jealousy seeps into his general: a dark heart personified, supported by a dark stage that resembles such a heart, its players seemingly entering and exiting through metaphorical veins and arteries.
There are no weak links in this small, superlative cast and it seems unfair not to mention everyone but Richard Standing is particularly notable as Cassio, Othello's moral and reputation-obsessed lieutenant, who manages to play drunk just a shade on the side of non-drunk in a drinking scene that is one of the highlights of the evening.
The venue is the transformed comedy/farce theatre at the top of Whitehall (Charing Cross end) and seems tailor-made for Shakespeare's only real domestic tragedy: just big enough, yet just small enough for the intimacy required. A huge bonus is that the sound is terrific and combined with great delivery from the actors, every word rings out clear as a bell.
Anyone who thinks Shakespeare is not for them should come along to a production that, while paying faithful homage to the original text, uses regional accents that seem to lend an ease and authenticity to the words being said. Shakespeare was from the Midlands, after all.
Last night I was amazed to be told that there are still a few tickets available, but it is selling fast. If you do one thing this weekend, I urge you to call the Trafalgar Studios. You will believe that a man can deceive: you simply will.
This production was reviewed by Ray Brown at the West Yorkshire Playhouse, Leeds, and by Steve Orme at the New Vic, Neecastle-under-Lyme
Reviewer: Anita-Marguerite Butler