The Tempest
William Shakespeare
Northern Broadsides
New Vic Theatre, Newcastle-under-Lyme, and touring
(2007)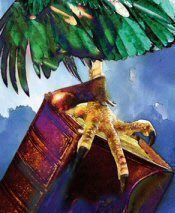 The programme notes for the first co-production between the New Vic and Northern Broadsides spells it out: The Tempest is a tough play to pull off.
The writer points out that when the plot and the words have gone as far as they can, the music takes over. There's more music in this than any other of Shakespeare's works.
The added problem at the New Vic is that everything is performed in the round which throws up several limitations that are not apparent on a more conventional stage.
But this cast of fourteen make light of the surroundings and come up with an atypical production, parts of which are, to quote Ferdinand, "the top of admiration".
One of the main reasons for its success is the fact that most of the actors are reasonable musicians too. They swap instruments and turn their hands to an eclectic mix of styles. The first half ends on a high with a jazzed-up version of Caliban's song which celebrates his regarding Stephano as his new master. That got everyone's toes tapping.
There's only one occasion in which the music takes over to the detriment of the action. It was almost as though director Barrie Rutter thought the shipwreck scene at the beginning was too complex to perform with a sparse set and dispensed with the visuals, allowing a song to portray the fear and distress of those on board. It's a disappointing start.
But then the production takes off, in no small part due to Rutter's portrayal of Prospero. Some directors have the Duke of Milan as a bumbling old wizard; Rutter's Prospero is an animated, energised, driven individual whose sole aim is to get his enemies to his island where he can extract revenge.
It's difficult to imagine that this Prospero could neglect his ducal duties because he was wrapped up in his books. Rutter gives us a scheming magician who is quick to get angry yet genuinely repents when prompted by Ariel and decides that "the rarer action is in virtue than in vengeance".
A fascinating aspect of the production is that there is not one but three Ariels who do Prospero's bidding. Nicola Gardner, Simone Saunders and Belinda Everett are similarly dressed yet subtly different to represent the various characteristics of the spirit who can conjure up all sorts of visions.
The concept works brilliantly in the scene in which Stephano and Caliban believe interruptions of "Thou liest" are uttered not by Ariel but by Trinculo. The jester moves to other parts of the stage only to have another Ariel impersonating him.
Conrad Nelson who composed the music is impressive as a camp Trinculo who extracts all the humour from the scene in which he shares Caliban's gabardine during a storm.
Michael Hugo does a commendable job as Caliban although he seems too small and too nimble to be a monster. Although he is often hunched up, his only monster-like qualities are his webbed hands and hairy back.
There are notable performances from Simeon Truby as Alonso, distraught over the loss of his son; Matt Connor as a spirited Ferdinand who is not one of Shakespeare's more endearing characters; and Tim Barker as the wise old counsellor Gonzalo.
Using northern accents throughout isn't detracting and often adds to the meaning of Shakespeare's words, although at times it leads to an inconsistency in delivery. Rutter's final speech is an example and he doesn't really get to grips with the complete change that Prospero has experienced to get to that stage.
Despite that, The Tempest should go down a storm no matter where it goes on its forthcoming tour.
"The Tempest" continues at the New Vic until March 17th and then tours until June 9th
Howard Loxton reviewed this production at the Greenwich Theatre and J D Atkinson at the West Yorkshire Playhouse, Leeds. Peter Lathan also reviewed it at the Gala, Durham.
Reviewer: Steve Orme