The Tempest
William Shakespeare
Northern Broadsides
Greenwich Theatre and touring
(2007)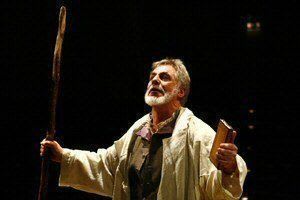 A large and youngish school party were making a deafening row in the foyer of the theatre when I went to see this co-production between Northern Broadsides and Stokes's New Vic Theatre - the volume scarcely reduced when they took their seats within the auditorium. It says a great deal for this company and Barry Rutter's direction that it seemed to totally hold the attention of this previously unruly rabble.
That morning the actress playing Miranda had been rushed to hospital and, there being no understudy, Kate Ambler, who has appeared in earlier Broadside productions, was rushed in without time for rehearsal, reading the role at the matinee and playing in the evening still book in hand.
The show is very simply staged with a two-tier circular rostrum on which stands a sundial like structure that suggests some kind of nautical astronomical instrument as well as, once the play begins, the rudder, rigging and mast of the storm-wracked ship, and then a skeletal tree upon a barren island. In the round when it opened at Stoke, for this thrust stage presentation narrow pieces of cloth, interspersed with knotted ropes in grey blues and greens hang in an arc around the back of the stage against a black painted back wall. The simplicity of Lis Evans' design is very effective and, often golden lit by Daniella Beattie, it looks good.
This production opens with the singing of lines from some of Ariel's songs that segue into a shanty sung by sailors and the lines of the opening scene. Conrad Nelson's music is, presumably, supposed to suggest the storm, but it doesn't sound like storm or sea to me and I think it needs more than a lot of noise and a few flashes of light beneath the rostrum to tell an audience what is going on. Music is used, not just for the songs, but also to underscore points in the production. The text settings are delightful and elsewhere it benefits the production greatly - and is splendidly played and sung by the cast themselves - but at the opening, you just get cacophonic confusion, which may be right for plot but results in just being confusing for the audience. Several minutes of wondering just what is going on, are followed, in contrast, by what now seems the self-conscious laboured exposition (Shakespeare's fault not the director's) of the next scene, contrived so that Prospero tells the audience, rather than his daughter Miranda, the back story.
What this scene does immediately give us, however, even with an actress reading her lines, is the closeness of the relationship between father and daughter. This is a truly doting dad. Its true that, throughout the play, this formerly wronged Duke has everything going his way but, there is little here of the man seething for revenge. He knows he has it in sight and is already perhaps beginning to see that is not important, except as a form of education for his enemies. Whether showing tough-love to Miranda or the boy he has already decided to pair her off with (and what could be more controlling than that?) we feel that now he is only pretending and Rutter's Prospero shares this with the audience.
It was not until the entry of the chosen bridegroom, Matt Connor's beautifully-spoken Ferdinand looking like one of Jane Austen's young gentlemen, that I realised that the costumes tended it place it in the Regency. It was perhaps this early-nineteenth century look, combined with the bluff-looking faces of his father's court that made me think not so much of dukes and kings as Bradford wool-merchants and hard-headed mill-owners - with Phil Corbitt's ruddy-looking Sebastian perhaps a butcher - competing both in business and for civic position. Tim Barker's gentle old Gonzalo, with his intellectual bent, is a philanthropic hangover from the earlier enlightenment generation who probably had a regular correspondence with Wedgwood and Erasmus Darwin - and who was naturally close to the bookish Prospero.
Many directors would probably cast skinny, imp-faced Michael Hugo as Ariel - but Rutter makes him Caliban. No coarse and heavy monster this, nor the colonial slave of some twentieth-century productions but, overworked and twisted by his labours, he suggests rather one of the down-trodden labourers in the mills and mines who make these new industrialists their money. When he breaks into a jazzy dance-routine for his song "Ban, Ban Caliban," which brings the first half of the play to a rousing end, his natural exuberance revealed, or when he breaks into a burst of great poetry with 'The isle is full of noises' it is no contradiction but a revelation of the man within.
Prospero claims to have taught Caliban with gentleness, until he tried to rape his daughter. Prospero may believe it but we doubt it, and probably he - and Rutter's performance hints at this - also recognizes that he was an unrelenting master to one he treated as inferior. Now the island and his situation have changed even Prospero. When he abandons revenge for forgiveness and reconciliation is no sudden reversal of behaviour.
I have never seen the comic scenes with Caliban, the butler Stephano (the deliciously drunk Simon Holland Roberts) and Trinculo be more unforcedly funny. Conrad Nelson (as well as composing the show's music) is a delightfully (and totally un-PC) camp Trinculo. There is a hint of a sub-text in their relationship, not least when Stephano recognizes Trinculo by his bum, but no one who would be offended is likely to notice. One of the strengths of this production is the way there seem to be real relationships behind its characters, however simple the basic plot.
The production has one gimmick: Ariel is played by not one but three performers (Nicola Gardner, Simone Saunders and Belinda Everett) with lines sometimes in unison and sometimes split between them. The audience soon gets the idea, though it might have helped to have held hands or had arms on shoulders to signal it at first - or would that have been too obvious? It enables them to become all the shape-shifting sprites and phantoms of Prospero's magic including the characters of the (heavily cut) masque.
Despite carrying the book, Kate Ambler offered a very direct Miranda of simple charm; but I did find it surprising that she needed to look down to read every single line - even "O brave new world." It must show something about the lack of exposure to Shakespeare in our schools and drama schools that a young actress was not sufficiently familiar with such a key female role to already know large chunks by heart.
I am always a sucker for the reunions and reconciliations of Shakespeare's later plays. He was a master at writing tear-jerkers scenes. But there is much more than theatrical sentimentality here. Rutter is genuinely moving. He - and his cast - give a clear and comprehensible rendering of the verse and have found a style of acting that has a modern intimacy combined with an almost nineteenth-century theatricality. I reckon this is a production that may well have won over those noisy youngsters for theatre and for Shakespeare for life.
Steve Orme reviewed this production at the New Vic, Newcastle-under-Lyme, and J D Atkinson in Leeds. Peter Lathan also reviewed it at the Gala, Durham.
Reviewer: Howard Loxton