The Tempest
William Shakespeare
Northern Broadsides
West Yorkshire Playhouse, Leeds
(2007)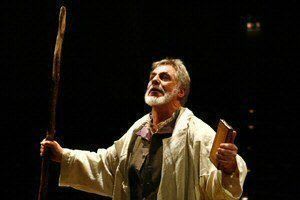 A typical Northern Broadsides Shakespeare production is rather like a traditional Sunday dinner. Take the roast beef of the Bard's text, have Barrie Rutter direct with the unpretentious crispness of Yorkshire pudding and garnish with simple yet effective designs (in this case by Lis Evans). Add a generous serving of gravy in the form of Conrad Nelson's inventive music and your plate very nearly runneth over with pleasure.
The Tempest is Shakespeare's last solo play and by far the most frequently performed of the four so-called "romances". Twelve years after overthrowing his bookish brother Prospero and making himself Duke of Milan, Antonio (Mark Stratton) accompanies King Alonso of Naples (Simeon Truby) on a voyage to celebrate a royal wedding. On the way home their ship is wrecked in a tremendous storm and the survivors - a motley band of courtiers, malcontents and drunken servants - are washed up on a seemingly deserted island.
Little do they realise that the storm was raised by the magical powers of Prospero (Barrie Rutter), who with his daughter Miranda (Sarah Cattle) survived being cast adrift in an open boat thanks to the provisions secretly stashed away by the loyal Gonzago (Tim Barker). Helped by the spirit Ariel (Nicola Gardner, Simone Saunders and Belinda Everett) Prospero prepares to take revenge on his enemies - but matters are complicated when Alonso's son Ferdinand (Matt Connor) falls in love with Miranda, and the magician's brutish slave Caliban (Michael Hugo) hatches a revenge plot of his own
Over the past thirty years or so many directors have interpreted The Tempest as a parable of colonialism. Rutter avoids heavy-handed moralizing and concentrates on the characters, who as a result come to life in a way many a more opulent production aims at in vain. Although his Prospero stresses the avenger rather than the sentimentalised pseudo-Shakespeare bidding farewell to the stage, he succeeded in holding the predominantly youthful audience spellbound throughout his great final speech.
The smaller roles are also strongly cast. Boozy butler Stephano and his sidekick Trinculo can be woefully unfunny in performance, but in the capable hands of Simon Holland Roberts and Conrad Nelson they are a truly hilarious double act. There is a hint that Trinculo, an outrageously fey Liverpudlian, is on terms of more than usual intimacy with Stephano (he also makes the most of an opportunity to cuddle up to a gent in the audience!). The tripartite Ariel is particularly effective in the "banquet" scene and stands in for the goddesses in a heavily cut masque. Michael Hugo's Caliban, not so much a monster as a hirsute, loping hominid who fell off the evolutionary ladder too soon, is also a vivid creation. His sensitivity to music is brilliantly exploited by Conrad Nelson's jazz setting of "Ban, ban Caliban", which stops the show in more ways than one just before the interval, and there is a curiously touching moment at the end of the play he mutely asks for Prospero's forgiveness - which is more than can be said of Antonio.
The simplicity of Lis Evans' designs - a circular platform surmounted by a post, doing double duty as the foundering ship and Prospero's island, drab early Victorian dress for Alonso's party - allow Shakespeare's words to speak for themselves. Few plays are less reliant on lavish sets and costumes to conjure up images in the mind's eye, and judging by the thunderous applause hundreds of young people thoroughly enjoyed having their imaginations stretched.
A Northern Broadsides/New Vic co-production. At the West Yorkshire Playhouse until 14th April, then touring to Truro, Halifax, Scarborough, Durham, Spalding, Buxton, Glasgow and Richmond. Tour ends 9th June
Steve Orme reviewed this production in Newcastle-under-Lyme and Howard Loxton in Greenwich. Peter Lathan also reviewed it at the Gala, Durham.
Reviewer: J. D. Atkinson