Look Back in Anger
John Osborne
Northern Stage production
Salisbury Playhouse and touring
(2009)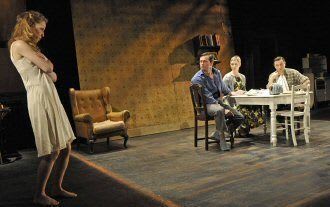 Who will deny that age is a relevant factor in appraisal of an angry young man?
Thus Kenneth Haigh, the original Jimmy Porter in the first stage performance of Osborne's Look Back in Anger at The Royal Court, was 25, while Burton, who took the role in the film, was 37.
Oh, and Osborne himself, created his own famous alter ego as a mere ingénue of 27.
So we are surely right to purse our lips at the maturity of the latest Jimmy in the person of the experienced Bill Ward, handsome veteran of Coronation Street and sometime matinee idol of the West End.
Of course, to a lesser extent, the same goes for Rob Storr's amiable Cliff - though in his case, we are much more likely to worry about the strange loss of this former Welsh college boy's native accent! A small detail, you might think, were it not for the fact that it surfaces in Osborne's text and Storr does find it - now and then.
More importantly, this work, which burst like a raging young Colossus onto the aging English stage of 1957, is now itself turned 60! Remarkable as it may seem, it is today a period piece, without the wit of Oscar Wilde, whose work we shall see on this same stage a month hence, and lacking the charm of Rattigan and his kind, whom Osborne so despised.
Yet, if we can peer back through the passing years, we shall see what a piece of theatre this is. If we can throw off present thoughts of economic chaos and remember the lessons of history, we shall come to terms afresh, as our forbears did, with the precocious, acerbic spirit that was Osborne's rage. Today we see, through Osborne's histrionics, as defiant as ever in this gallant restaging by Director Erica Whyman, of a watershed of the English stage.
Ward, like the play itself, is no longer in the first flush of angry youth but he is none the less infuriating as our hero - not least when his vocal television expertise occasionally loses his live audience.
For that matter, the entire company, including Nia Gwynne and Laura Howard, both of whom are otherwise excellent as the ever-ironing Alison and Helena, could nevertheless do worse than study the technique of the fine stage actor, Robert East whose elderly Colonel is a model of quiet, audible eloquence.
For me, however, the delight of this production is not the nostalgia of the play, it is the splendidly faded setting by Soutra Gilmour, with all its visual lighting, recalling the crumbling Victoriana of the circa 1950s Royal Court where George Devine and his English Stage Company first breathed life into the enfant terrible Jimmy Porter in Look Back In Anger.
Once again we are reminded that everything, even the pain of being thought "dated", comes to him who writes plays.
Peter Lathan reviewed this production at Northern Stage
Reviewer: Kevin Catchpole