The Comedy of Errors
William Shakespeare
Olivier Theatre, National Theatre
(2011)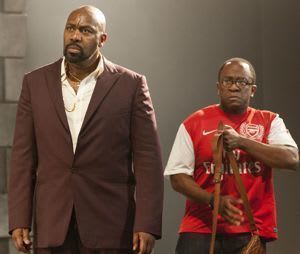 Royal Court Artistic Director Dominic Cooke has taken time out to work with Shakespeare in his debut at the National Theatre.
Cooke has come up with a bravely conceptual and most un-Shakespearean production of the Bard's shortest play.
In doing so, he updates the setting for this comedy of confusion to some seedy borough of London today, perhaps Soho, inhabited by lowlifes with petty gangsters and whores in profusion.
The setting by Bunny Christie rises to three storeys, starting in grubby streets and remaining outside, inter alia, apartment buildings, knife and jewellery stores, sex joints and a nunnery turned into a clinic for this version.
This set-up presents as many challenges as placing Hamlet in a contemporary lunatic asylum, which Ian Rickson has done just up the road at the Young Vic with help from Michael Sheen.
The Comedy of Errors is a play of pairs. Its main conceit, like that of Twelfth Night, features divided twins but here there are two pairs of identical twins to double up the fun.
The home team from Ephesus is led by sharp-suited Chris Jarman's proud, lecherous Antipholus, a man who rarely plays fair by his pretty wife, Adriana. His Afro-haired, Arsenal-shirted servant Dromio, Daniel Poyser, is much beaten but irrepressible.
Their identical twin counterparts visiting from Syracuse have the same names but different characters. In Cooke's eyes, they are Africans. This suits star turn Lenny Henry well, allowing him to reprise one of his staple TV characters on stage to good comic effect, while never overwhelming the rest of the ensemble. He gets strong support from Lucian Msamati as his superstitious Dromio.
The confusions are frequently at their best in the presence of the pick of the pairs, A of E's wife Adriana and her sister Luciana, respectively played as bleach-blonde footballers' WAGS by the fine combination of NT favourites Claudie Blakley and Michelle Terry.
Their travails are wound amongst many others involving bling, sex and cash in home, prison and spa-convent as the poor male dupes get embroiled in each other's lives with sometimes hilarious consequences.
It is telling that the last 15 minutes of the 2¼ hours are the funniest and most moving, since this is the period during which the production most faithfully follows the original script.
Before that, Cooke works very hard to impose a great number of his own ideas on the evening, with varying results. At times, the new inventions seem to get in the way of the play and its poetry without sufficient artistic justification.
This is particularly the case during an inaudible and off-putting opening when microphones and (back)storytelling fail to overcome an excess of overly-noisy stage business with overtones of an action movie.
However, much of the comedy in this unorthodox production is genuinely funny, even if Shakespeare buffs might at times struggle to recognise the play as one penned by their hero.
Reviewer: Philip Fisher