Desire Under the Elms
Eugene O'Neill
New Vic Theatre, Newcastle-under-Lyme
(2010)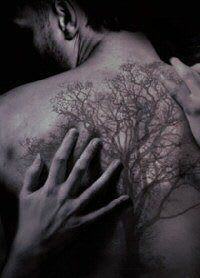 Eugene O'Neill's semi-autobiographical, moralistic tale of lust, love and ambition proved so shocking when it premiered in 1924 that it was banned. More than eight decades later, when society's tolerance levels are far more elastic, Desire Under the Elms still has the power to agitate and disturb audiences.
O'Neill didn't only rely on tragedy in his own life as inspiration for the play. He also turned to authors such as Freud and Jung, whose examination of dreams proved an important influence, and Greek writers including Euripides and Sophocles whose tragedian themes are timeless.
Desire Under the Elms is set in New England in 1850 at a time when families were so desperate to jettison their austere lives that they made the excruciatingly difficult journey to California in the hope of finding gold in "them thar hills".
The action of Desire Under the Elms centres on the Cabot family, with the father Ephraim a "hard and bitter" man who's worked two wives into early graves.
His three sons hate him because he treats them with scorn whenever they fail to match his physical strength or fail to live up to other exacting standards - which happens virtually all the time.
Pandemonium breaks out when Cabot marries a woman much younger than himself; it not only intensifies the conflict over who will inherit Cabot's farm but also leads to a passionate relationship between Cabot's youngest son Eben and his stepmother which has numbing consequences.
Desire Under the Elms could have been a difficult piece to perform in the round at the New Vic - but it's sensitively and powerfully presented by the theatre's artistic associate James Dacre.
He's quickly making a name for himself, scooping an Olivier award for best new play for his West End production of The Mountaintop earlier this year and then doing a creditable job at the New Vic with Michael Frayn's Copenhagen.
He's assembled an excellent cast who bring out all the power and intensity of O'Neill's epic tale that demonstrates how the American dream can easily turn into one of the worst nightmares imaginable.
Gareth Thomas gives a towering performance as Cabot, the stoical 76-year-old patriarch whose constitution is greater both physically and mentally than his sons.
Victoria Lloyd gives such an astonishing performance as Abbie that you're never really sure she's merely a gold-digger who's taken up with a much older man purely for financial reasons. Similarly, you're not certain about her true feelings for Eben. It's an enigmatic portrayal of the play's pivotal character.
There's also a commendable performance from Cary Crankson as Eben who agonises over his relationship with Abbie as the play hurtles to its destructive conclusion.
Desire Under the Elms calls for a scene change after 30 minutes which leads to an early interval at the New Vic. It also signals the final contribution of Tim Chipping and Owen Oakeshott as Eben's half-brothers Simeon and Peter. They sell their shares in the farm to Eben so that they can join the California gold rush; the scene in which they taunt the father they despise about finally being free of his oppressive ways is potent stuff.
The confines of the New Vic mean it's difficult to replicate the elm trees which O'Neill felt should be almost characters in the play. But tasteful video design by Dick Straker coupled with Lis Evans' customary thoughtful staging and Daniella Beattie's imaginative lighting conjure up the exacting way of life on the Cabots' farm.
This is a magnificent production which is admirably acted and perceptively directed. You should make it your desire to see it.
"Desire Under the Elms" runs until Saturday, October 9th
Reviewer: Steve Orme