Gigi
Book and lyrics by Alan Jay Lerner and music by Frederick Loewe, based on the novel by Collette
Open Air Theatre, Regent's Park
(2008)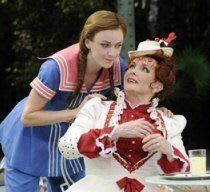 Gigi is based on the book by prolific and controversial French writer, Colette, whose life was littered with scandal, divorces, career changes and an open-minded choice of lovers, including her own step-son and the niece of Napoleon III - perhaps unsurprisingly then, like other works, this novel contains themes of the joy and torment of love and women's independence - sexual and financial.
The first time I saw Gigi on stage I was too busy swooning over heart-throb Simon Williams' Gaston to care about its morally questionable storyline or anything else for that matter. Now that I am older (much older!) I recognise that young girls being groomed by their families to be courtesans for rich men was often not a choice but a necessity - and such was Gigi's lot in fin de siècle Paris.
Lerner and Loewe's adaptation however flutters over any too-seriously disquieting elements in the story and in Timothy Sheader's production Gigi is expressly stated as being 16 years old, thereby making her older than originally implied and removing another modicum of our discomfort.
Dashing Gaston, the bored sugar heir on whom Mamita and Aunt Alicia set their sights for Gigi, is also depicted on the young side thereby underplaying the age difference and giving a hint of petulance to Gaston's flouncy exits.
The cast excel themselves at delivering Alan Jay Lerner's wonderfully witty book and lyrics which echo their earlier collaboration, My Fair Lady, both musically and in the storyline. Even if one cannot get the reverberations out of one's head, Frederick Loewe's sensational music is in the very good hands of MD Phil Bateman, whose skill is apparent not least in the way he handles the changes of pace and mood.
Linda Thorson is delightfully bossy as Aunt Alicia whose apparently thankless task it is to tutor the irrepressible protégée and negotiate her contract, which she does with great comic timing, a talent that she shares with Millicent Martin whose famous duet "I Remember it Well" quite sparkles.
Chaim Topol's Honore easily withstands comparison with Maurice Chevalier's unforgettable film portrayal. Even if he seems to take things at a slower pace than necessary, his reprobate Honore oozes charm with every gesture.
Thomas Borchert, a principal of musical theatre in his native Germany, brings an element of sincerity to Gaston to balance out the arrogance of the bon vivant. He has the task of singing the title song which he does supremely well and, although I am too old to swoon now, Borchert is appealingly good-looking in tails and, like Topol, his gentle accent adds a hint of sexiness.
The star of the evening however is Lisa O'Hare. She plays the joyful ingénue with energy tinged with only just enough precociousness to be tiresome to her tutors and her transformation from bouncing tomboy to young lady is spot on. O'Hare's wonderfully clear voice is a delight to listen to and her rendition of "In This Wide, Wide World" is nothing less than captivating.
The costumes evoke the period with colour and the set design, also by Yannis Thavoris, includes the a poster for "Colette au theatre en plein air" a tongue-in-cheek reference to the production itself as well as an allusion to Colette's fleeting and scandalous career as music hall performer. It is a clever touch that sits well within a smartly staged masterly work.
Don't let the grim weather forecast put you off going to this outstanding show.
"Gigi" runs until 13th September 2008 with performances from Monday to Saturday at 8pm and matinees on Thursday and Saturday at 2.30pm; there is a British Sign Language interpreted performance on Thursday 28th August
Reviewer: Sandra Giorgetti