Katya Kabanova
Leoš Janácek
Opera North
Grand Theatre, Leeds
(2007)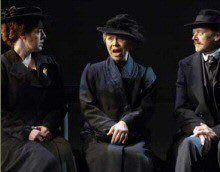 It's hard to understand why Katya Kabanova was so slow to get off the ground in Britain. Although the opera was premiered in Brno in 1921, the first English production did not reach the stage - at Sadlers Wells - until 1951. Another twenty years were to pass before English National Opera staged a new production at the London Coliseum. Yet Katya is that comparatively rare bird amongst twentieth century operas, a work that audiences tend to fall in love with at first hearing. Tim Albery's marvellous new production will no doubt captivate a new generation of opera-goers.
Janàcek's own libretto is based on Ostrovsky's play The Storm. The gentle and devout young wife Katya (Giselle Allen) is trapped in a loveless marriage to Tichon (John Graham Hall), a man still firmly under the thumb of his overbearing mother Kabanicha (Sally Burgess). She confesses her unhappiness to Varvara (Wendy Dawn Thompson), Kabanicha's foster-daughter, who is secretly in love with Kudryash (Ashley Catling). Boris (Peter Wedd), a young man whose dependence on his rich uncle Dikoy (Stephen Richardson) mirrors Tichon's relationship with his mother, has fallen in love with Katya.
When Tichon is sent away on a business trip Varvara, intent on meeting her own lover, offers to arrange a rendezvous between Boris and Katya. At first Katya is horrified by the suggestion but she is unable to resist temptation. The couple meet but their passion is destined to be short-lived; as a thunderstorm breaks Tichon returns unexpectedly, Katya's adultery is discovered and she runs away into the forest. Varvara and Kudryash vow to escape to Moscow together but there is no happy ending for Katya; Boris submits to the will of his uncle and is sent to work far away. Katya, utterly abandoned, drowns herself in the Volga.
A bald plot summary doesn't do justice to the overwhelming power of Katya Kabanova, a power intensified by Opera North's decision to perform the work - which is less than two hours long - without an interval. The orchestra, conducted by Richard Farnes, gives a gloriously rich account of Janàcek's music and the entire cast is superb. Regular patrons of Opera North will be familiar with Giselle Allen's musicianship and intelligent acting; she is no stranger to Janàcek, having already sung the title role in Jenufa and the Fox in The Cunning Little Vixen, and her Katya is a truly heart-rending creation. Sally Burgess resists the temptation to make Kabanicha a stereotypical mother-in-law from Hell, although there are intriguing elements of sado-masochism in her scene with the drunken Dikoy. John Graham Hall manages to convey Tichon's struggle to retain his dignity (albeit with the aid of a hip flask) and Stephen Richardson is a passionately sung Boris. Wendy Dawn Thompson and Ashley Catling make the most of their roles as Varvara and Kudryash.
Tim Albery's admirably clear and gimmick-free production, a far cry from the company's recent lamentable Orfeo, confines itself to setting the scene and telling the story. Hildegard Bechtler's sets are simple but evocative - a backdrop of ghostly birch trees, oppressive nineteenth-century interiors and a ruined church decorated with paintings of sinners burning in hellfire. Those new to Janàcek will find this Katya Kabanova a perfect introduction to his work, and dedicated fans will need no encouragement to see a wonderfully fresh production of this great opera.
At the Grand Theatre, Leeds, on 18 May, then touring to:
Theatre Royal, Nottingham - 7 June
Theatre Royal, Newcastle - 14 June
The Lowry, Salford Quays - 21 June
Peter Lathan reviewed this production at the Thetare Royal, Newcastle
Reviewer: J. D. Atkinson