Orfeo
Claudio Monteverdi, libretto by Alessandro Striggio
Opera North
Grand Theatre, Leeds
(2007)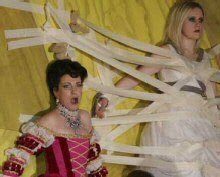 2007 marks the 400th anniversary of Monteverdi's masterpiece. Of all early operas Orfeo is probably the most frequently performed and, with its simple story and dramatic arias, the most accessible to audiences unfamiliar with Renaissance music. The story of the poet Orfeo's descent into Hades to rescue his young wife Euridice, only to lose her again by disobeying orders not to look back, is one of the very few classical myths that still resonate in the twenty-first century. So what possessed director Christopher Alden to come up with a production that in his own words "casts a cold, detached light on the Orpheus story constantly throws out road-blocks in the way of both the cast's and the audience's path towards identifying emotionally with what's going on?"
The curtain goes up to reveal a set, designed by Paul Steinberg, instantly recognisable as the first of Alden's road-blocks. A rear wall patterned in imitation of elaborate Renaissance marquetry but also seemingly inspired by M C Escher's warped perspectives hints that we are firmly in the world of director's theatre, a suspicion borne out by Doey Lüthi's costumes. A motley crew of characters dressed as 1950s rockers, 1960s mods and hippies, a couple in Renaissance dress, a business-suited gent reading a newspaper and a chap with a tape recorder and hand-held microphone sprawl on sofas or drift listlessly about the stage, cigarette in one hand and a drink in another. Orfeo (Paul Nilon), clad in jeans and a hoodie, slumps dejectedly in an armchair. This opera is less than two hours in length but even before a note had been sung I couldn't help feeling that I was in for a very long evening.
The first notes of Orfeo are sung by La Musica (Amy Freston), who enters through one of the high windows stage left (there is no other entrance or exit) in the guise of a leggy Las Vegas showgirl, complete with high heels and a towering ostrich-plumed headdress. The grace with which she pulls off this awkward piece of stagecraft is impressive, but from the opening scene onwards it's downhill all the way. Orfeo and his beloved Euridice (Anna Stéphany), both looking utterly miserable, are married in a bizarre ceremony during which they are joined together with yards of masking tape. Euridice is not bitten by a poisonous snake but stuck to the rear wall with yet more masking tape. The Renaissance couple turn out to be Plutone (Andrew Foster-Williams) and Proserpina (Ann Taylor), the business-suited gent (Graeme Broadbent) is revealed to be the infernal boatman Caronte - was he studying the obituary columns? - and the mysterious man who records Orfeo's virtuoso arias (Ashley Catling) is none other than his father, the god Apollo. When Orfeo returns empty-handed from the underworld Apollo spits on his hanky, wipes his son's tear-stained face and, whipping out a demo tape, assures him that he will achieve immortality through his music. And in case this sounds a trifle callous Apollo cheers him up with a consolation prize - a bar of chocolate.
There were many times during this dismal parade of half-baked ideas when I felt tempted to close my eyes and think of Monterverdi, but the barely suppressed giggles of the audience made it all too obvious that I was missing yet another of Alden's directorial touches. I must admit to being completely baffled by the weird little hand-jive ballets performed by the cast every now and then, the ritualistic use of flower petals and the ironic applause meted out to Orfeo by his on-stage audience of gods, nymphs and shepherds. If anything is lacking in contemporary opera productions it surely isn't irony.
Fortunately the musical strengths of this Orfeo helped to make up for its dramatic inadequacies. The Orchestra of Opera North, conducted by Christopher Moulds, rarely makes use of period instruments and there were a few moments when this was all too obvious. But the singers gave their all, particularly the superb Paul Nilon, and there was an almost palpable sympathy for an excellent cast trapped in this slow motion train-wreck of a production. Alden and the design team were loudly booed when they took their curtain calls but the singers were deservedly cheered to the echo. At least Opera North can console themselves that they aren't the only company lumbered with a production shared with Glimmerglass Opera, Den Norske Opera and Greek National Opera.
At the Grand Theatre on 13, 15 and 17 March; Theatre Royal, Nottingham, on 24 February; The Lowry, Salford Quays, on 3 March; and Theatre Royal, Newcastle, on 10 March.
Gail-Nina Anderson reviewed this production at the Theatre Royal, Newcastle
Reviewer: J. D. Atkinson