Orfeo
Claudio Monteverdi, libretto by Alessandro Striggio
Opera North
Theatre Royal, Newcastle
(2007)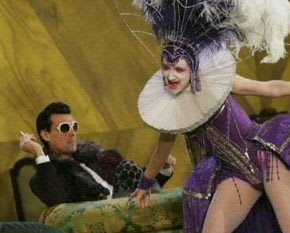 Monteverdi's Orfeo – arguably the great ur-opera that generated an entire art form – celebrates its 400th birthday this year. As anniversary gifts go, this Opera North production is the sort at which you smile weakly before sending it to the charity shop in the hope that someone, somewhere might want it for its novelty value.
To be fair, the opera itself could hardly be called a dramatist's delight. The libretto is a fairly straightforward adaptation of the Orpheus myth, starting with his wedding to Euridice and ending with Apollo's comforting notion that in music lays his immortality. In between, Euridice dies (offstage) and Orfeo follows her to the Underworld, winning her life with the beauty of his music before losing her forever because he can't resist peering backwards to check that she really is behind him. From his dreams of love conquering death he must, like everyone, emerge into the cold light of reality as what he loves sinks away forever. Emotionally it's spot on, but this is classical mythology filtered through the courtly formality of the 17th century, so there can be no such thing as a realistic staging. The music might invite you to interpolate a sedate ballet of nymphs (and how I wish someone would) or to go to town on Caronte's deathly ferryboat to Hades, but its intricacy and containment don't leave many loose threads for the director to tug at. It's difficult to see this as anything but a deliberately static opera.
Perhaps that's why Christopher Alden's production has raised so many hackles. It isn't simply that his visual and dramatic concepts are tired, trite and distracting – they're also profoundly irrelevant. Sing Orfeo in concert and it still hits home. A fully staged version which actually dilutes the power and meaning of the opera must be working very hard to be out of tune with it. His setting is presumably hell, though in the mode of Sartre's Huis Clos. A claustrophobically angled room offers no egress except for windows tucked into the right corner. That's right – all entrances must be made by clambering through these, which means they are entirely invisible to everyone sitting on the right of the auditorium. An assortment of night club posers, some distinctly recognisable from the circle of Andy Warhol, loll about waiting for something to sneer at. Musica (Amy Freston), dressed as a showgirl, clambers in without dislodging her feathered headdress, and at once those of us who can actually see this are pulled away from the music. Yes, her outrageous costume is a funereal purple, yes she's got fantastic legs – both of these considerations I might applaud, even in a Monteverdi opera, but here they're waved by director and designer as banners of disruption. I suppose we are meant to gain something from the contrast between visual and musical styles, but the former presents such a flabby rag-bag that it fails to generate even the occasional spark.
Fortunately, the musical delivery is impeccable. If we can drag ourselves away from Musica's legs, her voice tells us everything we need to know. In this she sets the tone for the whole production. The delivery of Striggio's complex and archaic phrasing was wonderful throughout, and no-one seemed afraid of finding that limpid sweetness of tone which is alien to so much later opera. The orchestra dealt more confidently with Monteverdi's mixture of mellifluous formality than the first reviews suggested, perhaps having now warmed to the effects created by early instruments strange beyond naming.
Orfeo (Paul Nilon), despite wearing a hoodie and displaying the occasional withdrawal symptom, was warm-toned and resonant. Poor Euridice (Anna Stephany) was hampered from any physical interpretation of her role by being sticky-taped first to Orfeo (marriage) and then to the wall (death). Caronte the boatman (Graeme Broadbent) came off best, as he wore nothing more irrelevant than a business suit and didn't have any silly business to distract from a (genuinely) comic characterisation in the best bass tradition.
Occasionally I shut my eyes, but there is a lethal instinct to know the worst, so I couldn't help but take in Proserpina's endless fags, or the cheque-book scene, or Apollo's cassette-recorder-and-chocolate moment. Irony is superfluous when staging an opera that never had any pretensions to realism, but this isn't even irony. It's as though the discipline that allows the music to work has offended Alden and he's getting his own back. Instead of immortality, Warhol's fifteen minutes of fame are offered as a sop to grief and a slap to Monteverdi. In this production we're not just being told that the eternal verities have dissolved, but also that charm, grace and even pleasure have become irrelevant. I think that's what I disliked most – that under the guise of decadence, Alden actually delivers a kind of Puritanism. Monteverdi, however, doesn't, as the audience recognised with tumultuous applause that, to judge from the buzz of conversation afterwards, was evoked by music and voices rising to excellence under trying conditions.
J D Atkinson reviewed this production at the Grand Theatre, Leeds
Reviewer: Gail-Nina Anderson