The Adventures of Pinocchio
Music by Jonathan Dove, libretto by Alasdair Middleton
Opera North
The Lowry, Salford, and touring
(2010)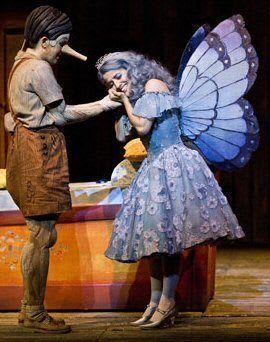 If the success of an opera about an animated puppet, a talking cricket and naughty boys who morph into donkeys can be measured by the enjoyment of children and parents alike, then Dove and Middleton's Adventures of Pinocchio is a triumph.
On a night when many families were warming themselves by the bonfire and eating toffee apples, an appreciative audience at the Lowry in Salford chose instead to immerse themselves in the allegorical tale of a wooden marionette who wants to be a real boy.
Disney's 1940 animation anchored Carlo Collodi's novel for children in the public consciousness but was only loosely based on the 1883 book. Thankfully, Opera North has eschewed the saccharine adaptation in favour of the darker and more thought-provoking original.
The tone is set from the start: instead of a chirpy insect with a top hat perched at a jaunty angle, the cricket "conscience" of Opera North's Pinocchio is squashed by the protagonist after giving some unwanted advice. As the score picks up pace, Pinocchio continues to ignore sage warnings, refuses to knuckle down to his chores and schoolwork and is led astray by a menagerie of dastardly characters.
Victoria Simmonds as the truculent Pinocchio inhabits the role of a petulant wooden boy with aplomb. Dressed head to toe in an impeccably-made costume, she stamps her feet, throws tantrums and skips about the breathtaking set without pausing for breath. Her clear voice rings out round the Lowry's majestic purple auditorium and she doesn't shrink from portraying Pinocchio as a thoroughly unlikeable youth bent on mischief.
Plaudits also to Rebecca Bottone who as both the cricket and a mocking parrot provoked gleeful laughter from the children in the audience. And, judging by the crowd's reactions, Carole Wilson was a big favourite, whether she was cooing from the rafters as a helpful pigeon or ambling across the stage as a friendly snail. Fflur Wyn, the maternal Blue Fairy, had less comedic opportunities as she steered Pinocchio through mishaps and mayhem but this didn't dent her appeal.
But the real star turns were the set and the costumes. Using a relatively small space, designer Francis O'Connor marshalled together a glittering array of 114 outfits and a touring show that requires six trailers. From the simplicity of the wooden box in the opening scene to the lavish Funland spectacle, the staging is a delight. Benches turn into trees, woodpeckers chip away at Pinocchio's unfeasibly long nose and a turbulent ocean converts into the belly of a sea monster.
Thanks to the talents of librettist Alasdair Middleton and composer Jonathan Dove, as well as the skill of Victoria Simmonds, Pinocchio gradually gains the audience's sympathy and compassion. By the time he becomes flesh and blood, he has children, parents and grandparents on his side. "Now I am a real boy and it is good" says Simmonds. Yes, it is.
Reviewer: Helen Nugent