Damages
Steve Thompson
Lucid Muse
The Old Red Lion Theatre
(2009)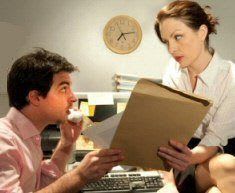 Steve Thompson's award-winning 2004 play is on offer at Islington's Old Red Lion Theatre courtesy of new company, Lucid Muse.
The piece has a timeless relevance in that it deals with the probity - or lack of - in tabloid journalism and raises some topical questions about privacy, money and morality, and, in managing to explain concepts such as qualified privilege reasonably unobtrusively, it has a 'ring of truth' about it.
The piece is not hugely original either in its characterisations or its structure, with the sub-plots of unrequited love and youthful graduate promoted over experienced grafter being particularly prosaic, but, to its credit, it has a couple of nice twists and in many respects is very funny too.
The photograph of a topless celebrity isn't always a scoop at a red top but in this case it is and it precipitates the ethical conundrums that follow. Why? Because this celeb is a whiter-than-white presenter on children's television and a discernible youthful male buttock sharing the same beach towel has a strong whiff of adultery about it.
But is a celeb with her "fun bags" out always fair game in an industry where the boundaries of public interest and a reasonable expectation of privacy are blurred by the conflict between legislation and the demand for publicity? As Lister says, "there are no curtains in a fish tank". Like a boxing ring with a fighter in all the corners, the lawyer, the night editor, the sub-editor and the journalist put their gloves on and fight it out.
Joanna Bell plays the predictably young and attractive lawyer with confidence. Her Abigail oozes self-assurance without overdoing the smugness and her delivery of the one-liners is clear and edged. Robert Rowe is Howard, a sub-editor of the old school, almost prehistoric in fact, in his guardianship of apparently outdated concerns of style, correct grammar and spelling. Rowe handles the deadpan humour well and makes a Howard who is sincere and engaging, bringing out his calm demeanour to good effect.
By contrast, Lister, played by Tom Carter, is all bluster and arrogance. Of the four stereotypes Carter probably has the hardest to deal with convincingly and he goes some way to pulling it off with a blast of arresting energy when he lets rip his anger.
Lister's professional rival, night editor Bas, is also Abigail's ex. In this role Simeon Perlin sounds just right but doesn't provide Bas with enough obvious intellect to be a threat to Lister or enough chutzpah to give credence to a relationship between him and feisty, sharp-minded Abigail.
Director Benet Catty should have demanded more from his designers. The set is low-tech and lacklustre and the sound of phones ringing off stage is puzzling - is this intrusive outside noise or part of Simon Perkin's 'busy office' soundtrack.
Damages plays in real time and Catty maintains a good pace until the denouement when it conspicuously slows to a "make sure they understand it" plod. It's a questionable choice but it is only a minor distraction at the end of a funny, entertaining and often thought-provoking play.
"Damages" runs until 25th July 2009 with performances on Tuesday to Saturday at 8pm and a matinee on Sunday at 5pm
Reviewer: Sandra Giorgetti