La Bohème
Giacomo Puccini, libretto by Luigi Illica and Giuseppe Giacosa, in a new translation by Robin Norton-Hale
Opera Up Close
Soho Theatre
(2010)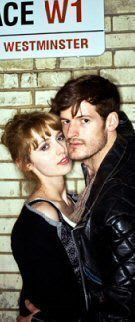 After a sell-out six months residency that put The Cock Tavern Theatre in Kilburn on to the theatrical map, Opera Up Close's triumphant modern version of Puccini's tragic opera transfers to Soho but for only one month.
Under the inspired direction of the writer of this version Robin Norton-Hale, this is opera for the people rather than the nobs, with lavish sets replaced by a functional bedsit and the orchestra by Andrew Charity at the piano.
The formula remains the same, though Norton-Hale's witty text has been adapted to fit the West End locale. The strengths of the production lie in its setting, which brings opera into the 21st Century, as well as great humour and pathos but, above all, fantastic singing. This is delivered by a series of young casts, packed with performers who, in many cases, must surely be destined to star at the great opera houses of the world before too long.
The bare story is faithful to the original, or at least its spirit. The first act takes place in the cramped digs shared by novelist Rodolfo and artist Marcello, bohemians who are so dedicated to their artistic gifts that mere incidentals such as food and money are an irrelevance.
On a night of carousing, Rodolfo played by the amazing Gareth Morris, who not only looks like a member of the Welsh front row but has the name for the job, stays at home and meets his attractive neighbour Mimi. She is played by Belinda Evans who, in between operatic engagements, provided her gorgeous soprano voice to lead the National Anthem before every England game at the 2003 Rugby World Cup in Australia.
When they decamp to join their friends at the pub, we do so too, finding the theatre's bar a convenient location for a drink. There is far more than an interval pint on offer, as the locals suddenly burst into tuneful song, while the students have fun.
The focus inevitably switches to gorgeous, under-dressed Musetta. She is having a barney with her companion, a businessman old enough to be her father but not comfortable being seen with his loud lover in public.
Their arguments are hilarious and allow us to get right into the action, so cramped is the space. This is also the chance to witness stars in up close action. Louise Lloyd, who can only be 5 feet tall, not only plays the harpy to perfection, frustrating both Martin Nelson as old Alcindoro but also handsome Michael Davis as Marcello. Along the way, she also demonstrates lung power and musicality that will be hard to forget, having enjoyed them from only inches away.
The final stages of the story are played out in the theatre, as tragedy hits the friends, allowing Miss Evans to prove that she is a talented actress as well as a really beautiful singer.
For most though, the star of the night is likely to be Gareth Morris. His acting may veer between stolid, operatic tradition and moving, tearful emotion but when he opens his mouth, this tenor proves that he has been blessed with a voice that should guarantee fame and fortune.
This company clearly works as hard on the acting and setting as the singing, which is refreshing. They give opera immediacy and accessibility and that can only be a good thing as, with sensible ticket prices, they will give many people a chance to fall in love with an art form that is generally seen as elitist.
Reviewer: Philip Fisher