24 Hour Plays 2010

The Old Vic
(2010)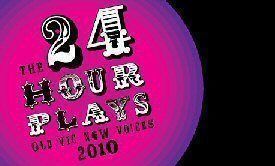 The 24 Hour Plays are a fantastic concept. Give fifty theatrical practitioners aged between 18 and 25 a showcase in a filled 1,000 seat theatre. For their part, the writers, directors, producsers and actors have one day from start to finish to create high art without any sleep.
This year, the quality of the writing in particular is very good. Since the seven playwrights were only given six hours to write a fully-formed, 15 minute play, that is remarkable.
The evening was introduced by Kevin Spacey in light-hearted mood but clearly a great believer in encouraging young talent.
He handed over to comedienne, Shappi Khorsandi who warmed up the audience with her brand of self-effacing, minority comedy.
The Aim of the Game by Jonathan Brittain
The Aim of the Game set the bar high for the rest of the evening, with a comedy drama about modern non-nuclear families.
Young Dominic 12, played wittily by Theodore Chester, is a monopoly freak and this becomes a metaphor for the problems that his Mum struggles through. The remarkably assured Helen Duff has star quality, instantly grabbing the eye as Lydia, a woman torn between the demands of making three men happy.
Her new husband Paul played by Michael Lyle is good with her son but is not his father. The returning Lance (Nicholas Banks) is a prodigal mainly interested in escape rather than humouring his son with a happy family game of monopoly.
The cast, completed by Joan Iyola who drew the short straw as the step-grandmother but got some good laughs, was well drilled by director Natasha Nixon in a work that shows high promise.
And Then There Were Four Little Beats of Four Little Hearts on the Edge of the World by Alice Birch
The first play of three about nullity has a title that must have taken an unnecessary proportion of the minimal writing time. It introduces a post-apocalyptic piece featuring the last four survivors left on the planet.
Thanks to director, Laura Keefe's imagination leading to a poignant finale and the acting of the two women, bolshy Ruth Middleton and forlorn Eileen O'Higgins, their struggles raise laughs but the male parts were underwritten.
I Can't Take This Any More by Lucinda Cardey
Lucinda Cardey takes on that perennial subject of teenagers' sex, in her well-crafted comedy. It features two mismatched couples and an awful lot of vodka, with actors using their own names. It is set in a park during the dark, drunken after-clubbing hours.
Charlotte Mills plays a desperate ugly duckling who is blasted and keen for handsome Ben Dilloway to pop her cherry. He, though, is hot for her best friend (Caroline Bartleet) but cannot bring himself to tell her.
Instead, Charlotte is not particularly pleasured by even drunker Orlando James, causing embarrassment all round.
The acting is good under the direction of Stef O'Driscoll, who makes sure that a familiar situation is kept interesting and the laughs all find their targets.
Last Train Home by Isabel Dixon
The concept here would be original but for the existence of Imaginary Body's 100, which has an almost identical premise.
Four diverse people are marooned at a railway station that they do not recognise. With the assistance of a conductor they (and we) gradually realise that the terminus is for the afterlife.
The quartet have a once in a deathtime opportunity to guarantee a happy eternity, leading to a nice twist at the end.
The humour generally works for Luke Sheppard's cast with Sammy Kissin's irritating Charlie, Alinka Wright under-used as Becca and Graeme Dalling playing the conductor to the fore.
Woosah by Arinze Kene
Woosah is a comic sketch characterised by some novel ideas and, unusually, an element of physical theatre very well handled by director, Alex Brown.
Two couple make out on a beach and seem more interested in one-upmanship that passion.
The show however is completely stolen by a naturally gifted comedian, David Mumeni as a rude boy who spots the chance to make a quick buck and goes for it twice over.
Joy by Corinne Salisbury
Corinne Salisbury shows great maturity in a piece that genuinely feels like a taster for a much bigger work.
The bravery and scope of this play, sensitively directed by Jeff James, that takes as its starting point the Brave New Worlds of both The Tempest (currently playing on this stage) and Aldous Huxley is impressive.
Joy is another post-apocalyptic nightmare and revels in poetic language, while setting out to challenge theatrical conventions.
It opens with the ethereal, red-headed Helena (Vivienne Bell) bemoaning the state of a world where an underclass of "wastrels" is perpetually hunted down.
Out on the wild side, the wastrels are represented by the impressive Leah Brotherhead's spunky Sare and her partner, the slower-witted but humorous Grae (Lekan Lawal), together with Mal, played by Daniel Hanna. They accept their lot as threatened outsiders but struggle to come to terms with their omniscient visitor.
Joy though is more than yet another dystopian sci-fi adventure, as it also plays with concepts of language and the way in which we tell stories to preserve experiences.
Boomerang by Daran Johnson
Boomerang directed by David Wright is a sitcom without all that much sit but with lashings of com. Once again, the actors use their own names.
It takes as its setting a derelict building about to be demolished by a large supermarket chain. There, a quartet of protesters meet.
James Walker is Basil Fawlty manic but sincere. His pal, Luke Courtier, is stinking rich and makes a good straight man. They banter about life and more indirectly globalisation until Jessica Ellis arrives with a Bacardi Breezer and proves herself to be an excellent, scene-stealing character actress.
She is followed by Lydia Larson who suffers at the point of the titular boomerang, before delivering some good jokes including the best of the lot that for some reason was missedby the whole audience.
Reviewer: Philip Fisher