Cause Célèbre
Terence Rattigan
Old Vic
(2011)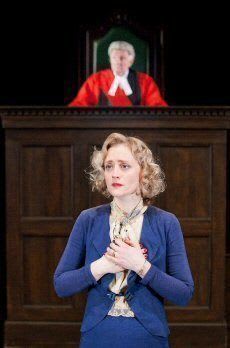 One of the Old Vic's greatest successes under Kevin Spacey's leadership was Inherit the Wind, a courtroom drama based on a real case.
That case was the Scopes Trial, which took place in America during the 1920s. Cause Célèbre, the latest play in the Rattigan centenary celebrations, is more of a melodrama and set in England a decade later. Once again though, it is based around that old dramatic favourite, a trial, following a crime of passion in not so sleepy Bournemouth.
Rattigan knew how to construct what has become known as a well-made play and he took the facts of the original murder and ensuing court case involving the thrice-married Alma Rattenbury to create just that.
Thea Sharrock is returning to the writer, having directed the National's revival of After the Dance, which recently dominated the Oliviers. Despite some sparkling performances and a well-paced production, this 1974 play is not of the same dramatic class, though it will appeal to fans of Rumpole and his ilk.
The play works on a number of planes. First, we follow the passion of Anne-Marie Duff's gorgeous, fun-loving lady of a certain age for her rough 17-year-old chauffeur. Tommy McDonnell, making his professional stage debut, acquits himself well as George Wood. Miss Duff is memorable both for her flirtatious passion and extreme anguish as character loyally tries to protect her lover from hanging.
Her sexual need is driven by marriage to a sweet but vapid and practically lifeless septuagenarian, who eventually becomes a victim of bloody murder.
This celebrated case is largely seen through the eyes of a single juror, Edith Davenport, played by another esteemed Irish actress, Niamh Cusack.
She has suffered at the hands of an unfaithful husband and is going through a divorce at the same time as her young son suffers horribly from a disease unnameable in 1935. Her prejudice against a loose woman is palpable but rather overplayed by Rattigan.
The main excitement of the evening inevitably lies in court and that is where Nicholas Jones as the QC O'Connor almost steals the whole show, doing a polished Rumpole impression while sounding like Nigel Hawthorne playing Sir Humphrey Appleby, against the tediously prurient prosecuting counsel, Richard Clifford's Croom-Johnson.
Miss Sharrock cleverly draws in her audience by ensuring that most speeches, both in court and beforehand, are delivered directly to the auditorium rather than across the stage.
The ending of Cause Célèbre is inevitable long before we get there but the stylish Hildegard Bechtler-designed production maintains interest, aided by strong performances by both leading ladies and also Nicholas Jones.
Reviewer: Philip Fisher