The Cherry Orchard
Anton Chekhov, in a new version by Tom Stoppard
The Bridge Project
Old Vic
(2009)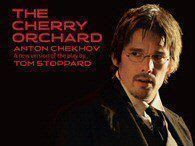 Sir Tom Stoppard really makes his mark on this new version of an old classic, playing as a Bridge Project accompaniment to The Winter's Tale with the same Anglo-American cast, who started the year at the Brooklyn Academy of Music.
He is having a good time at the moment, having seen David Leveaux' revival of Arcadia wowing the critics and the public less than a week before this show opened.
The central figure in The Cherry Orchard is Madame Ranevskaya, whose tragedy is immaculately depicted by Sinead Cusack in a performance that will live long in the memory. She is one of those Chekhovian women who are idle and promiscuous but loved by all.
On this occasion, the generous, if delusional, landowner manages to elicit great sympathy for a self-inflicted plight that she shares with so many of her peers.
The pivotal moment in the family's dispossession comes when the despised, nouveau riche "peasant" Yermolai (Lopakhin), played by Simon Russell Beale, finally buys the Cherry Orchard that represents her inheritance and family history.
In a triumphal speech, he drives home his advantage over a woman to whom he is devoted and would happily have helped out, had rigid class distinctions allowed him the opportunity. However, Lopakhin does not forget his enslaved ancestors as he celebrates achieving "the dream of some deep dark secret desire" that goes back generations.
Ranevskaya and her supercilious, loquacious brother, Leonid (Gaev), played by Paul Jesson, treat the incomer like a bad smell, hoping that he will go away and wilfully ignoring his good financial advice.
This is unwise and has a devastating affect not only on this pair and Ranevskaya's children, young, pretty Anya (Morven Christie) and the Chekhovian workhorse, Varya whose mixture of desire and shyness is excellently brought out by Rebecca Hall.
There is also a wide selection of supernumeraries to enjoy. Ethan Hawke makes the most of his opportunities as eternal student Trofimov, a more significant part in this version than usual, looking forward to a possible future. Another of the American contingent, Tobias Segal, proves himself an excellent clown as fall guy Yepikhodov, now affectionately known with some justification as "Catastrophe Corner".
As in the Shakespeare, Richard Easton impresses, this time playing proud old retainer Firs, a serf who wishes that emancipation had never arrived, in part because he affectionately bullies his supposed master anyway.
Sir Tom Stoppard's witty translation is fluid with at least a veneer of modernity, for example using first names rather than last or patronymics. It also works hard to bring the hidden humour as well as the tremendous pathos out of a "comedy" that in the original does not always seem like one, even including a couple of cracking Hamlet puns. In his own way, he also prefers words to silence, for better or worse leaving less to the imagination than one might have expected.
Sam Mendes concentrates hard on the look of his productions, with many memorable vignettes, best exemplified by a scene just before the interval when the workers are seen as silhouettes, seemingly waiting to dispossess this once wealthy noble family and step into the brave new world of power and equality.
The day ended close to eight hours after its start with every rapt visitor grateful to Messrs Mendes and Spacey for putting together a stellar cast in a pair of fine plays that showcased three great playwrights.
Reviewer: Philip Fisher