Cinderella
Book and Lyrics by Stephen Fry, Music by Anne Dudley
The Old Vic
(2007)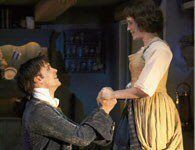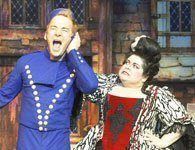 The Old Vic's panto this year is great fun, though whether you'd want to take your children might be a moot point. With Stephen Fry in charge of the script, it might not surprise readers to learn that there are gay plotlines, obscene jokes by the silver slipper-ful and numerous references to parts of the body that the kiddies should really not have heard of.
All of this adds up to an extremely funny and highly entertaining afternoon/evening for those who do understand all of the innuendo. There are far more good jokes than one has any reason to expect and we even get a convincing surrogate for the author in Sandy Toksvig.
The TV and radio presenter plays a moustachioed narrator who opens in an armchair suspended in mid-air then keeps coming back (through aga and fridge) to offer wry observations about the action, sometimes in the guise of the King's right hand man, Old Vic.
The underlying story of Cinderella, the dispossessed orphan with the dodgy step-relatives, does not need re-telling. It should be enough to point up the Fry novelties.
It has to be said that while this is a big budget, glittery event, the music and choreography, with the exception of an energetically delivered scat song and dance at the find a princess "reality ball" tend towards the bland.
However, the comedy overrides this, as does Fry's book, with three weddings at the end, or to be more precise, two plus what must surely be the genre's first ever civil partnership.
As seems de rigueur nowadays, Stephen Brimson Lewis' vision of Pantoland draws its inspiration from Pop Art while permitting swift transitions between society and the heroine's two-storey home. There, grotesque Candida (Debbie Chazen) lives with her two larger than life daughters. Mark Lockyer and Hal Fowler make a good double act playing Dolce and Gabbana.
This is one of a dozen or more examples of what sound like advertising opportunities for high street brands. There are so many that one wonders whether Mr Spacey touted around for sponsorship. However, judging by the clothes draped on these not quite size 0 models, D & G may well not be that chuffed at the publicity.
While this trio have fun upstairs, they do so at the expense of the handsome couple downstairs, Madeleine Worrall's enslaved Rose (or Cinderella) and her gay chum Buttons, played by the bleach blond Paul Keating.
The regal team is led by Joseph Millson playing a hunky and at one point strip-teasing Prince Charming; and Oliver Chopping as Dandini, the sidekick with an overwhelming liking for Buttons and bows.
When all looks lost for the heroine, in the face of familial tyranny, a Deus ex Machina turns up in the form of a cackling, Cockney Fairy Godmother played with twinkling relish by Pauline Collins and suddenly Cinders in glittering white wedding dress does go to the ball to meet her dreamboat Prince Charming.
The traditional elements are there to amuse the younger audience members. The Behind You's beat the Oh Yes He Is's 10-8 despite a late rally, while the sing-song with choreographed leaping up and down won great favour as a replacement for an epilogue.
Under the direction of Fiona Laird, Stephen Fry's gay, risqué Cinderella will have won a lot of friends, at least amongst adult visitors. Observation of those nearby, as well as ear-splitting audibility, suggest that the youngsters had a good time too, but one hopes they didn't extend their vocabularies too far in wrong directions.
Reviewer: Philip Fisher