Dancing at Lughnasa
Brian Friel
Old Vic
(2009)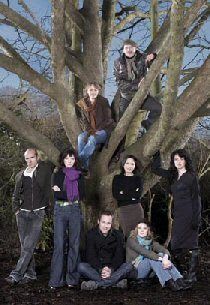 As so often at this venue of late, a revival hits just the right note. Dancing at Lughnasa is a perfect evocation of a bygone era when life was supposed to be simpler.
In fact, like Burnt by the Sun, also set in 1936, which opened just along the road at the National Theatre two nights before, we discover that the good folk living back then had their own problems.
Rather than a Russian dacha, Anna Mackmin's revival is set in Ballybeg, County Donegal where, were it not for the new-fangled but very temperamental wireless, we could still have been in the 19th Century as the age of industrialisation killed communities and religion began to lose its grip on the people.
Friel is brave, allowing his narrator, Peter McDonald's Michael, to recollect a long lost summer and its mad enjoyment of the pagan harvest festival of Lughnasa in tranquillity three or so decades later, happily informing his rapt listeners about what they can expect to witness in a truly moving 2½ hours.
The theatre is still set up in the round again and that works perfectly, drawing the audience in, as they were for The Norman Conquests, feeling almost like part of the furniture in the home of the Mundy sisters.
The five girls are past the first flush of youth and suffering from a local man shortage of epic proportions. This has subtly observed effects on their natural cheerfulness, leaving them reliant on their own and their siblings' company rather than the prospective husbands for whom they yearn.
Michelle Fairley immaculately plays prim, angry schoolmarm Kate, a natural spinster with controlling tendencies. She bosses the others, softened by the ever-cheerful Maggie, who for whatever reason seems to accept her fate more calmly than her sister and is brought magically to life by well-known sister, Niamh Cusack.
A revelation is Andrea Corr, who unlike other cast members sings not a note. On her stage debut, this sister of vast experience proves to be a fine actress playing Chris, the single mother of Michael, then 7.
She moons over his father, the feckless Gerry Evans, who brings to mind the Conquesting Norman. He seems to have stepped blithely in from a Wodehouse novel, although that is partly because the otherwise charming Jo Stone-Fewings struggles with his Welsh accent.
Gerry also holds Susan Lynch's Agnes in thrall but she has a greater purpose in life, protecting the simple youngest sister Rose played by Simone Kirby.
The family's weak hold on collective equanimity finally fails due to Chekhovian lost love, leading to sexual frustration; a missionary hero uncle played by Finbar Lynch who forsakes the pope and his church for something more exotic; and more distantly the Spanish Civil War.
Brian Friel must surely have, at least in part, based the family on his own and shows great tenderness and affection as well as wit in his portrayal of their ups and downs. So well-crafted is the drama that by its end, you almost feel as if this is your own family.
The award-winning play seemed good at the National when it first appeared in London almost two decades ago and this heart warming revival will not suffer by comparison and thus should be a sure-fire sell-out.
Until 9th May
Reviewer: Philip Fisher