The Real Thing
Tom Stoppard
Old Vic
(2010)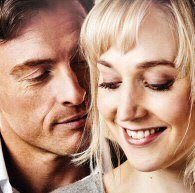 It's not far short of thirty years since Sir Tom Stoppard wrote The Real Thing but, as another writing team has recently reminded us, Love Never Dies.
In his inimitable way, the playwright explores the topic of love in painful depth but also provides a characteristic philosophical underpinning to his semi-autobiographical plot.
Anna Mackmin's fine revival starts with a Stoppardian surprise, as we observe a quartet of central characters all of whom are sophisticated theatre folk. Within a picture frame created by designer Lez Brotherston and filled with what went as state of the art trendy minimalism in the early 80s, we witness a web of infidelities wrapped up in the framework of plays within plays.
To add depth, these are then illuminated by parallels in the plays in which one of the lynchpins Hattie Morahan's appropriately flirty, flighty Annie, a part created by and reputedly modelled on Felicity Kendal, is performing, Miss Julie and 'Tis Pity She's a Whore.
Although The Real Thing frequently threatens to become too clever for its own good, it is rescued by the writer's humour and the feeling that much of what goes on is, as the title suggests, drawn from real life.
Indeed the convincing Toby Stephens as the protagonist, a good natured playwright called Henry, suffers much anguish while pursuing love with Annie and keeping a writing career going. The latter becomes difficult, as Annie foists her latest project, an imprisoned, politicised soldier and his pedestrian play, on to her reluctant lover.
Along the way, the distinguished but in some ways down to earth Henry has to endure the threat of losing her but also has troubles with his patrician ex, another actress played with grim realism by Fenella Woolgar and dad/daughter problems that give Louise Calf playing Debbie the chance to deliver a lovely cameo.
Stoppard plays can be wordy but his writing is always a delight and few writers for the stage play with ideas so cogently. The Real Thing is only dated by its music, which in itself is a homage to Henry's tastes that were already old hat in 1982. Otherwise, it feels completely contemporary, as viewers will instantly recognise people and situations on stage that could as easily have come from life.
Kevin Spacey should be delighted with the result of his latest commission, which should keep the box office very busy throughout the run, or at least until all of the tickets sell out.
Reviewer: Philip Fisher