Peter Pan El Musical
Based on the story by J M Barrie, adapted by Cristina Fargas
(Sung and spoken in Spanish with English surtitles)
Garrick Theatre
(2008)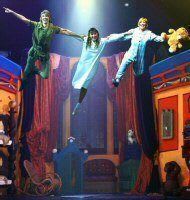 The latest show on offer at the Garrick is the import Peter Pan ~ El Musical which has been a huge box office hit in Spain.
In the century or so since Peter Pan first appeared on stage, J M Barrie's timeless story has been translated into countless languages and undergone hundreds of transmogrifications and, given that it has been everything from a silent movie to a comic, why not a pop musical too?
Spanish production company, Theatre Properties, have remained remarkably faithful to the original, including the use of several pantomimic devices, some which translate from English to Spanish and back into English better than others.
Peter Pan ~ El Musical even includes the often-omitted theme of adolescent Wendy taking something of a shine to Peter, at least to the extent of giving Wendy the solo ("Dime si estás") as she anticipates Peter's arrival at the nursery window - though the thread is not taken through to its conclusion. The theme "The end is when you start to grow up" introduced in the prologue also seems to peter out (sorry, I couldn't resist that one).
This is a fun, colourful production: the stage designs are detailed and the final street scene is surprisingly evocative. As well as the more conventional settings there are moving projected backdrops, luminescent effects in the Indian camp dance sequence and a laser light display that accompanies the opening music. Most importantly there was the scene where Peter, Wendy, Michael and John fly off to Neverland. Overall the kids seemed impressed enough.
The day we went there were problems with the lighting and the sound - or at least I hope there were - because the gymnastic mermaids for instance were lost in sombre gloom rather than a marine haze, and the sound was mostly blaringly over-amplified.
However, the surtitles are by far the most significant thing to take issue with - the only good thing I can say about them is they are big enough. Thank goodness the story is so very well-known.
The translation appears to have been done by a free internet service where "tan solo hay que imaginar" returns the un-poetic "so single it is necessary to imagine". Added to this, the surtitles were continuously out of synch, there was almost no punctuation or phrasing and all lyrics were in capital letters. The Indian Chief declaring BREAK PEACE PIPE TODAY THERE BE UPROAR could have been offensive un-PC pigeon-speak were it not so comical.
My ten year old companion had the better idea - not bothering to look at the surtitles at all during the songs and just watching the routines. There is child-appeal in the Eurovisionesque energy of the songs but they are nonetheless immediately forgettable.
The pacing in a piece like this is always going to be rather stop-start because the progress of the plot is suspended to accommodate devices such as chats with children from the audience, the ubiquitous (and far too long) 'I do believe in fairies' routine and audience sing-along - both in Spanish and English. There is also a bizarre episode when the Narrator appears, narratively-speaking, 'out of nowhere' to explain that fairies are created from a new-born's first laugh. It is a charming notion but an entirely superfluous little scene with which to hold up the action still further.
At two and a quarter hours El Musical is quite a marathon and judging from the chattering of small ones in the audience it was clear that their attention had been lost early into the second half, with bigger people clinging on a bit longer. Without doubt, the producers would do well to cut the length of the curtain call which included a reprise of every song in the show (or at least it felt that way).
Certainly, for those of us spoilt by Chitty Chitty Bang Bang and the like, this is rather amateur fare for the West End but there has been worse than this, and if you have Spanish blood in your veins you should think hard before you turn down an opportunity to see a Spanish-language production of anything. When it came to awarding scores, my young companion awarded El Musical 7½ out of 10. That's not a bad mark.
"Peter Pan El Musical" runs until Sunday, 27th April with evening performances on Monday and then Wednesday to Saturday at 7.30pm and matinee performances on Wednesday and Saturday at 3.00pm and Sunday at 4.00pm. The interval is 10 minutes.
Reviewer: Sandra Giorgetti