The Quare Fellow
Brendan Behan
Tricycle, Kilburn
(2004)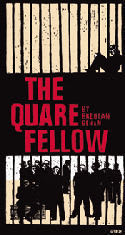 The Oxford Stage Company's follow up to Singer at the Tricycle Theatre is another revival that opens in a prison. Kathy Burke's golden jubilee revival of the Quare Fellow has the size of cast that one normally sees in a West End musical. At the curtain, there are no fewer than 17 actors taking a bow. Between them, they play 23 parts although in reality, the 24th is the most significant.
The play is set in Mountjoy Prison, Dublin, depicted in two superb sets designed by David Roger, both of which successfully capture the grim claustrophobia of prison life.
Unusually, the anti-hero of the play, The Quare Fellow himself is never seen or heard. However, been he is the pivot around whom Brendan Behan's debut is constructed. He is a man condemned to death the following day, for an unmentioned crime. Whatever it is, it revolts his fellow inmates far less than that of The Other Fellow, a very camp almost Wildean, gay man played by Tom Vaughan Lawlor.
The first act is played out in the cramped area outside five cells and is comedic, sometimes rather like an Irish episode of Porridge and commences with an all too realistic "slopping out" that draws groans from the audience.
There are three generations of prisoner in Mountjoy. The boisterous youngsters can irritate both other inmates and the audience but it is the weary old lags, Tony Rohr as Neighbour and Ciaran Macintyre as "methylated martyr" Dunlavin, both excellent actors, who steal the show.
After the interval, the pace slows considerably and the play becomes much darker, as the time for the execution approaches. The focus moves to the exercise yard and much more worryingly, to the detail that is digging the grave for the soon to be executed Quare Fellow.
The taking of a man's life is examined from many different angles - his fellow prisoners of all hues, the great and the good and the prison officers. These are led by Regan, a very sympathetic performance from Sean Campion that could hardly be more different from his starring role in the award-winning Stones in his Pockets that included a spell at the same theatre.
This is a grimly realistic portrait of prison life in Ireland in the 1950s. It is also a reminder of the days in which homosexuality was illegal and the death penalty common. As such, it is perhaps more of a historical piece than might have been expected. The massive ensemble cast are generally strong and Kathy Burke manages to combine gallows humour and pathos with a fair degree of success.
Reviewer: Philip Fisher