Three Short Works: New McGregor ballet - Infra; Tetley's Voluntaries; Flindt's The Lesson
The Royal Ballet
Royal Opera House
–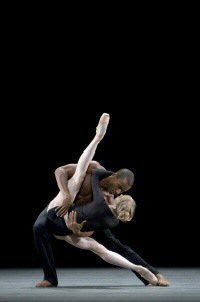 Gritty 'street' culture invades the Royal Opera House. Sanitised 'street' vernacular, but still Wayne McGregor has injected spirited life into the House and brought the Royal Ballet into the 21st Century. The future looks good.
McGregor, Random Dance founder and resident choreographer of the Royal Ballet since 2006, has always had an inquiring attitude towards movement and the human body, constantly seeking a wider frame of reference, exploring possibilities, pushing experimentation.
His latest collaboration, with artist Julian Opie, has been fruitful for them both. Juxtaposing their creative talents, their different expressive languages, Infra - meaning 'below', 'underneath' - is more than the sum of both their parts. Referencing TS Eliot's Waste Land, and Wittgenstein's On Certainty, McGregor creates an articulate dance language of his own, marrying the classical and the demotic.
An LED strip displays Opie's neon outlines of figures in continuous motion across the width of the darkly lit smoky stage - a frieze of bodies calmly walking over a bridge high above the dancers. Is this a walkway above a cityscape? Are they commuters indifferent / oblivious to the dynamic underbelly, the sub-culture bubbling under the arches, under the flyover?
Parallel lives and cultural tensions are reflected in the gripping choreography: from the waist down the legs are classical, the women en pointe, from the waist up undulating break-dancing torsos.
Fast, acrobatic, gymnastic, the women contort themselves into astonishing origami permutations; the darting men proud 'roosters', speed kings, street-wise hot heads.
In urban monochrome T-shirts, briefs, crop tops, miniskirts, tracksuit bottoms, six couples, sinewy, sinuous, and sexy, part and re-group, carving aggressive shapes that blur before our eyes.
Supple swayed backs over-arching, lithe bodies 'ducking and diving', Melissa Hamilton and Eric Underwood, one blonde, the other black, revel in the challenge of their competitive sensual pas de deux. The one arm lift gives new meaning to 'arm candy' And Underwood's swaggering solo is too cool for words.
Brisk brusque dance dialogue, a fierce pas de trois, the stage filled with twelve confident dancers doing their own 'thing' amongst a flowing crowd of strangers, manic activity, then the whistle blows... Conflict, resolution, love.
A tender duet for Edward Watson and Marianela Nuñez finishes the piece on a note of intimacy and joy. Mara Galeazzi and Leanne Benjamin are good, too, dancing with fearless abandon.
Infra, dedicated to Dame Monica Mason in celebration of her 50th Season with the Royal Ballet, a work about duality, finds its counterpart in Max Richter's double-layered music - electronic sampled sound on top of harmonious cello and violin - the rough with the smooth. Abrasiveness and tenderness rub up against each other, mellow romantic strings and repetitive staccato beats - echoes of Philip Glass.
Astute programming has complemented Infra with Glen Tetley's dramatic 1973 Voluntaries. A crossover choreographer like McGregor, Tetley was "equally dedicated to modern dance and classical ballet".
Tetley more or less follows the tempo of each section of Poulenc's Bach-influenced Organ Concerto in G Minor (here played by Thomas Trotter), ending the dance with a glorious cruciform lift to the sublime Gloria.
Majestic cathedral-filling chords, reverential and joyous, demand huge soaring lifts, and Leanne Benjamin and Federico Bonelli, Mara Galeazzi, Thiago Soares, and Sergei Polunin rise to the occasion with élan and concentration, but do not yet manage to make light of the taxing choreography.
An emotional drama unfolds. In duets, trios, and en masse, seventeen dancers in white body leotards, splinters from Rouben Ter-Arutunian's pointilliste backcloth sun, sparks of light and flickering moods, proudly display the glory of the human form in spectacular entwinements, unusual attitudes, leaps, and couplings. The through line from Voluntaries to Infra is self-evident.
Two demanding exhilarating works require a mid-banquet cleansing of the palate, and that is the purpose of the middle work, The Lesson, the first ballet Danish dancer Flemming Flindt created when he was only 27 in 1963. A narrative ballet after Eugene Ionesco's 'comic drama', as he called this macabre fantasy, it is infrequently done by The Royal Ballet.
In the tradition of The Red Shoes, Massine's La Boutique fantasque, and Coppélia, it requires as much mime acting skills as dancing.
Unable to attend the first night, I missed the first cast: Johan Kobborg and Roberta Marquez. But second cast Edward Watson danced and acted well as the sexually predatory creepy Teacher, and china doll Yuhui Choe (in primrose yellow dress and bows to match in her hair) looked the unsuspecting innocent Pupil part. Character dancer Elizabeth McGorian was the scary Pianist failing to get the Pupil to leave before it's too late.
The expressionistic basement classroom set with its distorting mirrors, green curtains, fallen chairs, and barre, designed by Flindt himself after Bernard Daydé, exuded Hitchcockian menace.
Reviewer: Vera Liber