Three Short Works: The Seven Deadly Sins; Carmen; DGV: Danse à grande vitesse
Royal Ballet
Royal Opera House
(2009)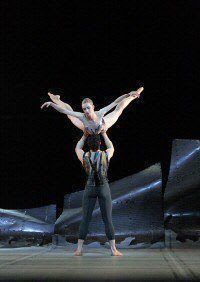 Three different conductors for three short works - that's attention to detail And this eclectic triple bill does add up to an electrifying evening - with the best saved for last. The programme, revivals of the recent old and recent new, culminates in a tour de force, which has the audience on its feet, in spite of a change of cast due to several injured dancers.
The Royal Ballet has been beset with an unfortunate number of injuries lately. But it is privileged to have excellent young up-and-coming dancers to cover: in DGV nineteen-year-old Sergei Polunin takes Federico Bonelli's place, Mara Galeazzi Marianela Nuñez's, Nathalie Harrison Sarah Lamb's, and the wonderful Lauren Cutherbertson replaces Zenaida Yanowsky, who dances Anna II in Kurt Weill's satirical ballet chanté.
Weill's The Seven Deadly Sins with ironic text by Bertolt Brecht (their last collaboration), Anna I sung here by Martha Wainwright in W. H. Auden and Chester Kallman's English translation, is the first revival of the William Tuckett's 2007 version - with superb set by Lez Brotherston: a steel walkway in the sky and a lit globe, the moon, against which the two Annas in identical beehive hairdos and clothes are first seen in silhouette.
I was pleased to see and hear it again - even sung by a voice that has to be supported by amplification. And the text does need to be heard. Thank goodness for a programme booklet with text included.
Commissioned in 1933, the half-hour production premiered the same year in Paris (and later that year in London) in Balachine's choreography with Lotte Lenya as Anna I and Tilly Losch as Anna II. Lenya revived it in the 1950s singing it a fourth below its original pitch. Interpreters have ranged from soprano Teresa Stratas to Marianne Faithfull who recorded it an octave lower.
Martha Wainwright falls into Marianne Faithfull's category. A plaintive waif-like voice, which would suit pretty artistic Anna II better than the calculating Anna I, the pragmatic half of the split personality. Zenaida Yanowsky is the dancing Anna II - the body, the commodity, sold to the highest and most available bidder.
The divided self When is sin not a sin?... When it is turned on its satirical head - Western capitalist mores are mad and bad. Weill's cabaret music, barbershop quartet (the sanctimonious family), opera-ballet, Brecht's Marxist critique, sin and virtue inverted, are just the thing for our muddled muddied venal times.
To Rodion Shchedrin's 'distillation' of Bizet's well-worn dramatic music Mats Ek, too, excavates satire from a much-interpreted story in his quirky 1992 version of the Carmen myth - the independent woman in control of her own destiny - told from Don José's point of view. The ballet opens and closes with his execution.
The dancing - not on pointe - is fiery, funny, cartoonish, sinister, all angular arms and flexed feet, and the company relish it. Shouts ring out, arguments rage, symbolic red cloths are pulled from heart and groin, and at the hot centre is sultry Tamara Rojo, big cigar in little mouth, red skirt lifted high to fan her 'on heat' body, sliding and writhing across the floor.
In contrast is Lauren Cutherbertson as the Lorca- / Goya-esque M, the mother / rival figure, a woman bound by convention and religion - in buttoned-up high-neck long-sleeved long dark purple dress (designs by Marie-Louise Ekman). Her long torso bent over, her long arms unable to conceal her anguish and complicity, her crab-like scuttling. Marvellous.
Brian Maloney contributes an athletic Gypsy full of ballon and speed; Thomas Whitehead emotes as José, and the gypsy women in dresses of metallic blues, greens, and silver dazzle. But it does go on a bit, and the minimalist set puzzles - I'm not sure what the surrealistic polka dot 'fans' are, though the solitary brooding cannon ball sets the military scene effectively.
Jean-Marc Puissant's sculptural design for Christopher Wheeldon's 2006 DGV: Danse à grande vitesse owes much to Frank Gehry's 'post-structuralist' metallic architectural creations. Its long undulating shape traverses and dominates the stage, defines the dance, the tempo, and creates an illusion of space and distance - quite le motif juste for a work to music commissioned to celebrate the TGV.
Michael Nyman's minimalist music, with echoes of Philip Glass's pulsating 1987 Dance Pieces for Twyla Tharp's In the Upper Room, has drawn from Wheeldon the best choreography of his career - for me, in any case. Exciting, complex, joyful, and full of propulsion, DGV takes one's breath away. Credible images of travel, quotidian and decorative (Rolls Royce Spirit of Ecstasy statuette?), add depth and fun to vibrant dance. Mercurial moves reflected in Mercury swift messenger god costumes, too.
Four couples dance in the foreground whilst a large group forms and reforms in the background - waving, swaying, weaving, jostling. The dancers are outstanding in stamina, skill, and dynamic momentum. Running, pirouetting, leaping, flying - speed and distance - time and motion - a dancer caught by her foot in arabesque wafts in the breeze Percussive sound - fife and drum A change of tempo and a moment of rest Silence Magical.
Wayne McGregor's Infra and Christopher Wheeldon's DGV - the ROH is moving on
Reviewer: Vera Liber