Alice's Adventures in Wonderland
Choreography by Christopher Wheeldon
Royal Ballet
Royal Opera House
(2011)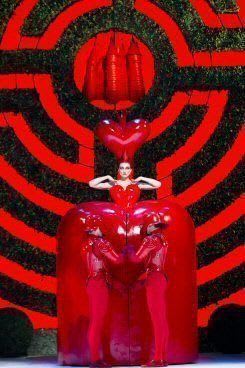 To borrow a term, Christopher Wheeldon's new full-length narrative ballet, a first for him, and the first to a commissioned score at the Royal Ballet in the last twenty years, is critic proof.
A dearly loved story endearingly visualized, and generously supported, this co-production with The National Ballet of Canada had grown men in the audience chuckling and laughing out loud. One imagines, they were fondly reliving the crazy zany world of Alice's Adventures in Wonderland through the rosy-coloured spectacles that the White Rabbit was wearing.
And talking of borrowing, there were many, should one say, influences, references, echoes and homage in the two-act production of unequal halves. On first viewing one's mind is left reeling from an overabundance of striking images and visual jokes stumbling over each other to do justice to Lewis Carroll's wordplay. It will be interesting to see the ballet when it has bedded down in the repertoire.
Costumes so inventive that Vivienne Westwood and Galliano ought to be eating their hearts out. The Queen of Hearts' dress is a power outfit to surpass all power suits. Encased and wheeled on in a molten wet paint look red, solid stiff pumpkin-shaped skirt on casters and a heart bodice, which open to reveal her throne, and the king asleep on the steps, she terrorizes all that she surveys.
Zinaida Yanowsky, taller than the rest, is clever casting, though the poor woman's choreography to suit her extreme personality seems to be skating dangerously close to the men in tights Les Ballets Trockadero de Monte Carlo slapstick territory. Not that the audience mind this bit of pantomime.
Vibrant colours dazzle - bright reds, greens, blacks and whites, contrasting and clashing. Alice flits through it all in muted lilac. Her genteel Victorian theatricals and tea in the Christ Church garden (realistic backcloth) turn into a psychedelic trip when she plunges through a Gladstone bag turned rabbit hole.
The Cheshire Cat comes to pieces in the hands of black clad puppeteers, the Caterpillar (Eric Underwood sensually slithery) is the exotic Arabian Nights Rajah and his entourage who are visiting Alice's parents in the opening scene, the crinolined Duchess (Simon Russell Beale en travesti), the Mad Hatter (Steven McRae a Johnny Depp doppelgänger tap dancing on a Pollock's paper toy theatre stage) is the magician who came to entertain, Lewis Carroll the photographer sprouts a white tail, and the strict matriarch in white gown becomes that petulant red Queen, an overacting grotesque.
Choreographer Wheeldon has wisely collected a highly talented team around himself, and it is, of course, a collaborative work, but the evening belongs to designer Bob Crowley and his riot of invention. The Duchess's home is a Home Sweet Home Victorian embroidered sampler, which opens into a cauldron of smoke, heat and Sweeney Todd activity.
There are Fish and Frog Footmen, a Butler Executioner, exquisite Playing Cards, flamingo dancers, tiny hedgehogs doing forward rolls across the stage and many Woodland Creatures. Paper boats, synchronized swimming, meat cleavers, an axe dripping heart-shaped blood, and a bouncing head, Victorian paper flower cutouts, a sponge cake trampoline, swirling letters, optical illusions and puppets
I imagine I see avant garde Soviet cinematographers, that abstract spiraling effect from Hitchcock's Vertigo, Vorticists and Futurists in the projection design by Jon Driscoll and Gemma Carrington. Crowley acknowledges a debt to Lotte Reiniger.
Joby Talbot's music is a mood-suiting film score: ticking time, jazzy dissonance, fairground music, castanets, romantic lyricism, heavy percussion, and embedded classical ballet phrases for the Queen's Tart Adagio (a là Rose Adagio). There's a flower waltz, and a dramatic tango that fits the queen's grimaces, but little that takes one's breath away.
At last, we come to the dance. This is theatre ballet. The step choreography is fine with some good solos and duets, but not outstanding, though the dancing is. The ballet has been created on Lauren Cuthbertson, a delicate English rose who has only just recovered from a long serious illness. She is the perfect choice, a lovely dancer/actor. Not showy but always in the role. Hardly ever off the stage hers is a tour de force performance.
Sergei Polunin (Jack/Knave of Hearts) partners sweetly and dances superbly with flashes of the daredevil in his tours en l'air. Steven McRae's tap dancing is balletic, cheeky, and full of manic dash. Much is tongue-in-cheek and knowing. Edward Watson is a frantic White Rabbit and a gentle Carroll.
Simon Russell Beale follows Dawn French (a small role in La fille du régiment in 2007) to the Royal Opera House, bringing a new audience maybe out of curiosity. Comedy, song and now dance, is there anything this man can't do? Much has been made of his role, but in actual fact it is quite small, he's one of many on the crowded stage.
Playwright Nicholas Wright has constructed the scenario, which ends where it opened in the Victorian big house garden, except this time there's a sign pointing to Cream Teas. We're in the ironic present.
The world and his uncle will want to see this spectacle. It is already sold out. A long seventy-minute first half is filled with Alice's episodic adventures, which culminate in the second forty-five-minute half in the Queen's garden, its backcloth a wonderfully garish colour-shifting maze.
The moving hedges are spies in disguise, and the red rose bushes keep changing back to white after they've been painted red. Spectacle and magic, magic consultant Paul Kieve is credited in the programme, as is puppet designer Toby Olié.
A young man having fun with responsibility thrust upon him, but not without the assistance of many, Wheeldon's choreography is in the tradition of Ashton (Tales of Beatrix Potter and La fille mal gardée) and Dame Ninette de Valois (Checkmate). He dedicates his new ballet to her. We have come full circle.
In rep till 15th March 2011
Reviewer: Vera Liber