Electric Counterpoint / Asphodel Meadows / Carmen
Choreography by Christopher Wheeldon / Liam Scarlett / Mats Ek
Royal Ballet
Royal Opera House
(2010)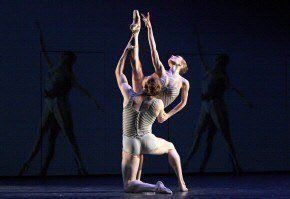 Twenty-four year old first artist Liam Scarlett must have thought he'd gone to heaven, or at the very least the Elysian Fields, when the thunderous reception of his first major piece for the Royal Ballet's main stage reached his ears. One suspected a claque in the auditorium so vigorous was the shouting and stamping.
But the Asphodel Meadows, where the ordinary people, neither good nor bad, are sent after death in Greek mythology, is the place for him at present, though he shows immense promise, intelligence, and a confidence carefully nurtured by Monica Mason and encouraged by Wayne McGregor.
And maybe that's what the modest young man thought when he named his ballet for three leading couples and seven backing couples after that section of the ancient Greek underworld.
Poulenc's 1932 concerto in D minor for two pianos (pianists Robert Clark and Kate Shipway), according to Poulenc a battle between the good and the bad, the sacred and profane, provides the dramatic variation.
Three movements; three mythical femmes fatales and their attentive chevaliers. The opening dramatic allegro is danced by Marianela Nuñez and Rupert Pennefather, the gentle tinkling second movement by Tamara Rojo and Bennet Gartside, and the final allegro molto by Laura Morera and Ricardo Cervera, all ideally suited to the courtly choreography Scarlett has imagined for them.
In costumes of rich purple brown, black, and burgundy, the three couples dance wondrously, whilst the other seven couples in pale cream costumes arrange themselves decorously around them, an animated frame against an abstract backcloth forest of black streaks on white (painterly atmospheric design from James MacFarlane), an enchanted landscape where the repetitive drama unfolds.
Scarlett undoubtedly has talent, but he plays safe with this dreamy traditional piece, the steps fitting the notes neatly, and the mood romantic. He calls it an abstract ballet, but one feels a narrative struggling to get out. Maybe he is the one to create that new story ballet that many feel is lacking in the repertoire.
Scarlett's work is the conservative filling in the middle of a triple bill, in which a Christopher Wheeldon ballet is once again counter-balanced by Mats Ek's expressionistic Carmen.
Ek's deconstructed Brechtian / Lorca-esque Carmen, reviewed here early last year, improves on further viewing with an unbuttoned-up Tamara Rojo commanding and in fine high-pitched voice as the hysterically petulant woman subservient to no man, and Bennet Gartside dynamic as the priapic Escamillo. Kristen McNally takes on Lauren Cuthbertson's buttoned-up M (mother / rejected lover role). The preying and the praying mantises, so to speak: sacred and profane love again. Exaggerated comic emphasis and an affectionate send-up of an over-familiar tale revive Carmen and its popular melodies. Ek makes us look and listen afresh.
But for me the best is first - Wheeldon's Electric Counterpoint - a creative synthesis. Music by Bach and Steve Reich (the title and concept come from his composition); video design by Michael Nunn and William Trevitt (the Ballet Boyz filming has developed by such a huge artistic leap I was reminded of Isaac Julien's video art); minimalist monochrome geometric stage designs by Jean-Marc Puissant, lighting by Natasha Chivers, sound design by Mukul Patel, solo piano played by Robert Clark, and guitar by James Woodrow. All sensitively woven together. Exquisite bliss.
Reich laid down eleven tracks with one live musician, who then played live with his own eleven tracks, each playing against the other. Sounds terrible? Sounds wonderful. And it fits beautifully with Bach. Each time I go to the ballet I learn more about music.
Wheeldon asks his dancers what it feels like to dance on stage. And then uses their voiceovers to blend with the dance and the music and the videos of themselves in elegant costumes, whilst they themselves in simple shorts and vest outfits dance with and counter to their mirror images.
A dancer's life is about examining one's reflection scrupulously. The original foursome in the 2008 premiere were Edward Watson and Sarah Lamb, Eric Underwood and Lauren Cuthbertson - here due to illness Lauren is replaced by Leanne Benjamin. But that is fine. In effect Leanne is dancing with a digital Lauren. Her virtual ghost remains. Personal portraits of the dancers give way to public exegesis, and an archival treasure trove.
The video images fade into smudged oil paintings; the dancers' avatars multiply, defy gravity, and increase or decrease in size like Alice; and legs on pointe in crisscross searchlight patterns fill the two angled screens in constructivist design. The human scale dancers on the stage have to face up to the magic unreality of these expectations, the stage perspective, with boldness and humility.
The knowingness of the dancers and the technical demands can spoil the art form for them, but for us Electric Counterpoint is a new way of seeing the beauty and grace of dance lifted on a cushion of complex but simple music.
Electric Counterpoint is a small-scale piece with a long reach. Cast will dance with cast. The concept is all: a multimedia artwork and a lesson in ballet, counterpoint, and ingenuity.
A rare treat from Wheeldon: the choreography reveals the dancers at their best. The duets and solos are out of this world. Classical, contemporary and baroque images - the past and the present combine, and the present gets a Second Life.
In rep till 15th May 2010
Reviewer: Vera Liber