Jewels
Choreography by George Balanchine
Royal Ballet
Royal Opera House
(2009)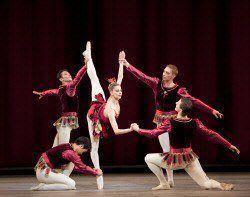 "Either I begin with the idea and then look for suitable music, or I hear a certain piece of music which inspires me with an idea."
Jewels came about, apparently, from a visit to Van Cleef & Arpels (co-sponsoring this production), but it's the choice of music rather than the mineral precious properties of the gems that is key to the abstract dances - three strands of dazzling brilliance in form, arrangement, and style - made for New York City Ballet in 1967.
Emeralds, Rubies, and Diamonds - there were to have been sapphires (to Schoenberg), but the colour "is hard to get across on stage".
Three stand-alone ballets, that shine more brilliantly when strung together, are a synthesis of Balanchine's classical style, influences, and life experiences: the Ballets Russes in France; sassy can-do New York, and his early training in Imperial Russia inspired by the music of Fauré, Stravinsky, and Tchaikovsky.
"To try to describe for you the dances themselves would be boring, for they have no literary content at all" - so wrote the master, but a mood and a narrative can be found in the music chosen. And, the more one looks, the more one sees the many facets of each 'jewel' reflected in the others. The history of ballet distilled by an alchemist of the dance.
Ballerinas in pale green calf-length tulle skirts are memories of sylphides in the bois dormant, emeralds in majestic sylvan setting, the ten-strong corps bejewelled garlands framing and embracing the lead couples, Tamara Rojo and Bennet Gartside, Leanne Benjamin and Valeri Hristov.
Sarabandes and melancholy pavanes suggest the dreamy magic of fairy tale chivalry, the mystery of the medieval court. Fauré's music (Pélleas and Mélisande, and Shylock) evoked for Balanchine "the France of elegance". Aloof unattainable Tamara Rojo brings a solid technique and the recollection of her recent Ondine to the dance, and elegant graceful Leanne Benjamin the whispers of a royal household in her leisurely promenade en pointe with her chevalier, her feet barely touching the ground.
Rubies, to Stravinsky's 1929 Capriccio for Piano and Orchestra, snaps Emerald's meditation with its witty jazzy score - the new world entr'acte, as it were, between two old world Romantic ballets. The ballerinas, pelmet skirts fringing their red leotards, are goddesses of the nightclub cabaret, teasing seductresses, all thrusting hips and Cyd Charisse legs.
Vivacious Alexandra Ansanelli, who started out with the New York City Ballet, is ideal, dancing with an uninhibited zest and panache. Laura McCulloch, replacing Lauren Cuthbertson, is a trifle stretched but rises to the challenge, and Carlos Acosta has fun, eclipsed though he is by the 'Amazon' women But then, for Balanchine, ballet was all about the women.
In the final ballet, Diamonds, a showcase for a prima ballerina assoluta, Balanchine gives us the source of his inspiration - the classical idiom of the Mariinsky Imperial ballet school.
Alina Cojocaru, partnered by a protective princely Rupert Pennefather, returns in cautious triumph after a year's absence due to serious injury. The long pas de deux (a third of the length of the half-hour ballet) is exquisitely beautiful but demanding - one is transfixed, heart in mouth - but she passes all the tests.
It is good to have her back - she is a dancer to the depths of her scared soulful eyes. And Tchaikovsky's Symphony no 3 in D major, in which one can hear the grandeur and romance of his Swan Lake (it was to follow a couple of years later in 1877), touches the yearning soul.
Pennefather's dancing, perhaps lifted by Cojocaru's appealing mix of delicate waif and gentle authority, is a vast improvement on his recent lacklustre performance in Sensorium. And the polonaise grand finale - seventeen courtier couples in regal pomp and formation join their prince and princess - is an homage to the Imperial Russia of Balanchine's birth and Petipa's and Ivanov's story ballets.
A sparkling gem of an evening - the Royal Ballet on glittering good form - and the complete collection of Balanchine's Jewels, with a modest new set by Jean-Marc Puissant and original costumes by Barbara Karinska, in their repertoire only since November 2007. A high on which to end their season.
In rep till 19th June 2009
Reviewer: Vera Liber