Les Patineurs / Tales of Beatrix Potter
Choreography by Frederick Ashton
Royal Ballet
Royal Opera House
(2010)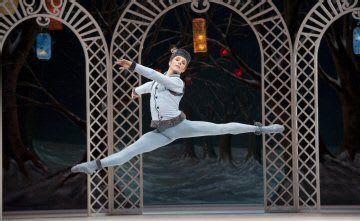 As Covent Garden patrons slip and slide on the snow and ice outside, the Royal Ballet presents a more elegant version inside the House: Frederick Ashton's Les Patineurs. Created in 1937 it retains the insouciance of the age, and the flair of Ashton's namesake Astaire - the sheer pleasure in the musicality of dance.
A chocolate box setting of an enclosed cosy world: skating rink garlanded with white trellis arches, an overhanging canopy of woodland branches dusted with snow, and pretty Japanese lanterns. A perfect winter wonderland stage for this Viennese truffle of a ballet
Period costumes - girls in bonnets, men in tight military style jackets and caps - are matched by Constant Lambert's musical arrangement of selected ballet divertissements from two of Giacomo Meyerbeer's (now out of fashion) mid-nineteenth century operas, Le Prophète and L'Étoile du nord.
Waltzes, quadrilles, and gallops, the flow and fluidity of the dance never stops - apart from the comical slips and falls - number overlaps number. Before one set exits, another enters, until the finale when the 'skating rink' teams joyfully with them all.
Two girls in blue on pointes leaning into the wind cross in front of the four couples in brown and turquoise making patterns in the 'ice'. A romantic couple in aristocratic white grace the floor, and the air, with buoyant overhead lifts and tender embrace - pure escapism. Sarah Lamb and Rupert Pennefather are ideal, or do I mean idyllic... Two girls in red dance on in cheerful abandon... A lone skater shows off his superior skills.
Steven McRae, red hair toned by ice-blue costume, is superb as the cheeky exhibitionist. His entrechats, fouettés, sautés, cabrioles, tours and ronds de jambes en l'air - constant motion - are executed with panache, nonchalance and ease. And his partnering of the blue girls in the pas de trois is extremely self-confident. The curtain comes down on him spinning like a top forever as snow falls.
His partners, Laura Morera and Samantha Raine, are delightfully pert and crisp. Raine executes the famous thirty-two fouettés, yet it is announced after an extended interval that it is Morera who is injured, and is to be replaced by Hikaru Kobayashi in The Tales of Beatrix Potter as Pig-Wig, a gentler more demure Pig-Wig.
How the dancers convey personality, hidden as they are inside their animal heads, is interesting to contemplate. Mrs. Tiggy-Winkle (Jonathan Howells) in blue striped stockings has a Max Wall air about her, Ricardo Cervera is a dapper Johnny Town-Mouse, and José Martin a restless reckless Squirrel Nutkin.
And how they dance in their bulky padded animal costumes, and remain graceful, is remarkable. Pigling Bland's and Pig-Wig's union is blessed by Mrs. Pettitoes, and the whole thing ends in a bucolic country dance - the waltz
Interesting how the pairing of ballets opens new vistas into them - both lead with the ballroom waltz. An impish Ashton has charmed us all again with his love of dance, artful choreography, and an instinct for the popular.
Till 10th January 2011
Reviewer: Vera Liber