Concerto / The Judas Tree / Elite Syncopations
Choreographed by Kenneth MacMillan
Royal Ballet
Royal Opera House
(2010)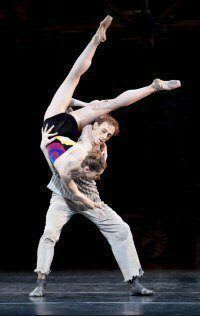 This celebratory triple bill reminds us, if we didn't know already, what a talent was lost far too early when Kenneth MacMillan died suddenly aged sixty-two in 1992, seven months after the premiere of the middle ballet in this evening's programme, The Judas Tree.
His last work, a dark troubled and troubling drama ballet, which jarred with many on first showing, proves how important casting can be. Or maybe we're more comfortable with in-yer-face ballet these days
Leanne Benjamin is remarkable, in the performance of a lifetime, as the archetypal Madonna / whore in veil and shroud. Tiny, androgynous, but not fragile, she's a tough tomboyish street junkie passed around by the gang of men - manhandled in every sense.
No street doll, she takes on the men, but she is outnumbered, out-machoed. The chick gets her neck rung (a startling moment, a flick of the wrist, and she's done) because of the pre-ordained rules of the boys' games.
On Jock McFadyen's building site set - scaffolding, graffiti and burnt out cars with its danger men at work sign - men in hard hats and hard hearts play by hard rules (to Brian Elias's modern score), and a gang bang is one of the rules - all for one and one for all. No one and everyone is responsible, even the battered temptress herself.
Loyalty and honour amongst thugs or disciples - eleven workmen, the foreman and his two close friends (the unholy trinity?). And a homoeroticism pointing to confused male psyches.
The Jesus figure, danced with a surprising passion and intensity by Edward Watson, pale and lean, draws the woman away from his foreman, the Judas figure, who mendaciously kisses him before his men tear him to shreds - a scene reminding me of that moment in Tennessee Williams' Suddenly Last Summer in which the death of Sebastian is so vividly described by Catherine Holly.
Betrayal on betrayal - Judas hangs himself. A more natural fit than Irek Mukhamedov who danced in the original, Carlos Acosta brings an easy grace and cool swagger, as well as amazing corkscrew turns in the air. And shows contrition on that kindly handsome face. Forgive him for he knows not what he does
MacMillan chills the blood with his cynical perspective on the biblical drama. The choreography with its Jerome Robbins theatricality is supercharged, and the dancing strong.
The versatility of the man: hard to believe that the same person choreographed the above, and the Balanchinesque neo-classical Concerto, and the light-hearted Elite Syncopations, the latter always a jolly audience-pleasing end to the evening.
With Concerto, choreographed in 1966 to Shostakovich's piano concerto no 2 in F major op 102, played live here by Jonathan Higgins, MacMillan shows us the captivating beauty of ballet and its exponents.
In apricot, plum and lemon practice tunics and unitards, the dancers, in solo, duet, and chorus formation, bring a freshness, poise and clarity to classroom exercises, the nuts and bolts of this particular art form.
Yuhui Choe and Steven McRae lead crisply in the brisk witty first and third allegro movements, but it's the central andante movement that reveals the yearning lyrical quality in the dance.
Marianela Nuñez and Rupert Pennefather are a treat. They were a last minute replacement, but what a swoon-making display. MacMillan bares his own and ballet's soul: its simplicity, its control, its joy, its musicality, and its power to move the heart. Nuñez is in her glorious element.
As is the American Sarah Lamb in Elite Syncopations. I wasn't looking forward especially to this candy box confection set to popular ragtime jazz. Classical ballerinas in burlesque floozy roles slumming it in speakeasy dives how could it follow the radiant Concerto set against an Olafur Eliasson-like sun backcloth (design Jürgen Rose), and the disquieting Judas Tree?
But I was wrong. It is populist, frivolous, snob-free, and utterly charming, if somewhat indebted to Jerome Robbins's slapstick ballets - there's no getting away from him...
Ian Spurling's gaudy stick of rock costumes, seemingly painted on to the dancers sleek bodies, set the steamboat, honky-tonk dancing and gambling den scene. Painted dolls, cardsharps, and gigolos.
The music, not just by Scott Joplin, played by a ragtime band on stage under the exuberant hands of piano conductor Robert Clark (on two pianos), is slinky slow and mellow, and music hall comic.
Mara Galeazzi in Carmen Miranda hat takes the role that was Monica Mason's in the original 1974 production, statuesque Laura McCulloch and small Paul Kay (Wayne Sleep's role originally) ham it up as the mismatched pair, but it is Sarah Lamb with two stars on her posterior who wins the riverboat dance competition for me.
The company look to be having a ball, and carry us with them. The uncomfortable mature tension of The Judas Tree is broken. But what a range of dance - a triple bill worth every penny.
In rep till 15 April 2010
Reviewer: Vera Liber