Mayerling
Choreography by Kenneth MacMillan
Royal Ballet
Royal Opera House
(2009)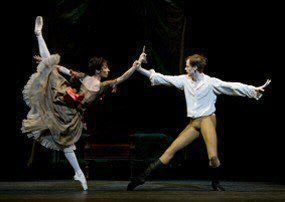 Thirty years after Kenneth MacMillan dragged the Royal Opera House's ballet company and core audience kicking and screaming away from its pretty pretty fairy tale world into the real world of insatiable human appetites and duplicitous deeds with his three-act dance drama, Mayerling, depicting the unravelling fin de siècle world of the raddled Hapsburg court, Monica Mason, Director of Ballet, has chosen it to open the 2009 / 2010 ballet season - with a Paul Hamlyn First Night Sun Reader Offer.
Top price seats at £30 (subsidised by The Helen Hamlyn Trust), and a feast of sex, drugs, and dirty dancing, are just the ticket to entice a new audience to the rarefied world of ballet. But, it's a long haul - three hours. And it's easy to get lost on the crowded stage - twenty-seven named characters listed as well as court aides, maids, whores, and hangers-on, reflecting the tangled intrigue, ennui, and licentiousness of the Imperial Hofburg.
First-timers will be glad of the synopsis, which does not explain the intricate dynastic relationships or the historical period against which the drama plays itself out, but does give an outline of events leading to the sordid covered-up mystery of the double murder / suicide of Crown Prince Rudolf and his very young mistress Baroness Mary Vetsera at Mayerling. Political expediency or a Kleistian pact oder
Rich brocades and velvets (Nicholas Georgiadis designs), glittering uniforms, court etiquette, stuffy tradition and hypocritical protocol mask corruption, inbreeding, infidelities, brain-addling syphilis, ex-mistresses procuring young girls for the prince, political manoeuvring, and spies everywhere.
At the unstable centre is volatile Rudolf with his sadistic bent, and deranged death-fixated personality (skulls, guns, and hypodermics) - a hell of a part for an actor dancer. The Germanic cult of death; a Hamlet without honour. To be or not to be
Edward Watson, long-legged and heroin-chic thin grows with the demanding role - spidery solos / soliloquies, and a series of sensual, contorted (it's ugly sex addiction not love that drives Rudolf) pas de deux with despised wife, promiscuous mistresses, cold mother, and willing Mary. MacMillan's dangerously visceral pas de deux are what one comes for - the choreography still astounds.
But good though he is, Watson doesn't quite hit me in the solar plexus. By comparison, Sergei Polunin (Hungarian officer) sizzles with panache, speed and ballon. I wonder when he will be ready to take on the role? Johan Kobborg, Rupert Pennefather, Thiago Soares, and Carlos Acosta share the role with Watson - quite a range of interpretations - take your pick.
Mara Galeazzi is a fine dancer, but I failed to connect with her Mary, a silly delusional girl in love with the romantic notion of a death pact. A rag doll, she ends up (like Ophelia) buried secretly and shamefully with little ceremony on a dark and stormy night - a frame for the drama. Leanne Benjamin, Melissa Hamilton, Tamara Rojo, and Lauren Cuthbertson - all very different dancers and personalities - share the role.
Sarah Lamb (ex-mistress Countess Marie Larisch), legs flashing like sabres, dazzles with her poise and sophistication, whilst tiny Iohna Loots (Princess Stephanie, the timid rejected wife in an arranged marriage), loses her inhibitions and hangs on Rudolf's neck like a limpet that needs shaking off furiously.
Steven McRae (Bratfisch), a rising star, provides delightful divertissement with his fast and light steps; Cindy Jourdain is dignified as Rudolf's aloof mother (boudoir scene echoes Gertrude and Hamlet) but shows her human side in her liaison with Gary Avis's Colonel 'Bay' Middleton; and Laura Morera is a hot Mitzi Caspar, the double-crossing prostitute and another of Rudolf's mistresses.
MacMillan created an emotional theatrical drama with dynamic moments of dance but also natural longueurs in court when very little happens for the sake of realism. Theatre and film can do this, but in the heightened vocabulary of dance the intensity is broken.
Liszt's 'soundscape' fills the gaps. Chosen and arranged by John Lanchbery because of Liszt's geographical, historical, and 'Faustian' resonances, for my money, the stitching together of a wide range of his music makes for a patchy tapestry.
The allusive score supports the narrative arc but does not drive the madness at its heart. And it's often the heart of darkness that produces a work of depth and originality, as Jann Parry's new biography, Different Drummer: the Life of Kenneth MacMillan, illuminates - a timely analysis of a troubled sensitive man who poured his pain and ambivalence into dance and took it into new psychological realms.
In rep till 10 November
Reviewer: Vera Liber