Mixed Bill: La Valse / Invitus Invitam / Winter Dreams / Theme and Variations
Choreography by Ashton, Brandstrup, MacMillan, Balanchine
Royal Ballet
Royal Opera House
(2010)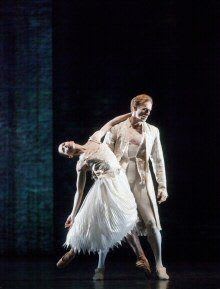 A stupendous evening, a generous (three hours) gourmet serving of dance and music, and a surprise tribute to Alicia Alonso in person, who took the standing ovation with elegant grace and a deep curtsey - impressive for one about to turn ninety, but that's training for you.
Supporting Alicia Alonso on either side were former dancer now artistic director Monica Mason, and Cuban Carlos Acosta - the past and the present, the international cross-fertilisation of talent and training, in warm embrace, which the intelligent programme celebrates.
For balletomanes the inter-connectedness of the four pieces, the dancing, the music, are a joy. And for the novice, this is as good an invitation to join the dance as ever there was. Do anything to see it. Monica Mason has excelled herself. This is the ballet world at its best. And what music: lyrical, expressive, concise, expansive - Ravel, Couperin (via Thomas Adès), and Tchaikovksy
The evening opens and closes with pure dance: Frederick Ashton's joyous La Valse re-imagining Imperial Vienna, and George Balanchine's retrospective Russian Imperial Theme and Variations (the last movement of Tchaikovsky's third orchestral suite), which Balanchine created for Alicia Alonso in 1947. The first is frothy frocks, tiaras and tails, the second tiaras and tutus, both filling the stage with a whirling swirling confetti of movement and dancers.
The curtain comes down on La Valse as the romantic couples are still caught up in their dancing - spinning out of a fin de siècle Vienna ballroom of chandeliers and swagged drapery into the careless night - can they not hear the ominous notes in the music...
Laura Cuthbertson's musicality shines out, as Ravel's music distils its breathless poetry. Interestingly, Diaghilev rejected Ravel's Valse, but Nijinska choreographed to it in 1929, Balanchine in 1951, and Ashton in 1958.
In Theme and Variations an imperious Tamara Rojo, a woman of experience paired with the dazzling young Ukrainian Sergei Polunin, demonstrates her command, and dashes off Balanchine's regal choreography with her usual technical flair and poise, whilst four couples and the corps weave intricate lace patterns around them. He provides the fireworks, she the allure. It brings the house down on a spectacular evening.
In between these grand bookends are two fascinating narrative ballets, the fifteen-minute new creation, Invitus Invitam, from Kim Brandstrup, and Kenneth MacMillan's fifty-minute Winter Dreams, an excavation of the frustrations and emotions in Chekhov's Three Sisters, characterisation and choreography which reminds one of Ashton's Enigma Variations.
To a piano on stage playing Tchaikovsky's expressive piano music (Philip Gammon) and a six-piece guitar group (two guitars, two mandolins, and two balalaikas) in another corner playing traditional Russian music (from the Lvov and Prach collections), the gamut of emotions in Three Sisters is played out.
Marianela Nuñez is an expressive Masha, lovesick, despairing at parting from Vershinin (a virile caddish Acosta with an eye for a pretty girl). Acosta dances with attack, and better than I've seen him lately - his grands jetés à la seconde are amazing. Mara Galeazzi is a sympathetic Olga in tune with Masha's husband Kulygin, and Laura Morera a tease who plays the Baron and Solyony off against each other.
Genesia Rosato has a lovely little dance as the girls' nanny, and Christopher Saunders' Chebutykin a funny drunken acrobatic dance entangled with a chair, which the audience love. Jonathan Cope is warmly received as the long-suffering Kulygin, and Edward Watson has a walk-on role as brother Andrei, but then he has just danced the lead in Brandstrup's enervating love duet.
Kim Brandstrup's Invitus Invitam is taken from a single line of Suetonius, Titus sent Queen Berenice away against his will, against her will, which he found in the preface to Racine's 1670 five-act play Bérénice. Racine wove his play from that line, and Brandstrup has taken up the challenge to make "something out of nothing".
Meticulously he has divided the action into three pas de deux between Titus and Berenice, one against 'his will', one 'against her will', and one the realisation of the inevitability of parting. Emotional, yearning, desperate lovers, outmanoeuvred, must submit their will and yield to convention.
In just fifteen minutes of condensed essence of passion and sorrow, in cinematic dramatic presentation, all this is explored and delivered. It could have been shorter, but no less intense, if Brandstrup hadn't wanted to reveal the inner workings of his art. Another couple in black, notes in hand, map out the architecture of the dance, as the huge black walls, from which ghostly magical castles will rise courtesy of ingenious video projection and lighting, are rolled into place, and on to which grids, arcs and curves are projected.
Edward Watson, in shimmering golden seventeen-century frock coat, and Leanne Benjamin, in gossamer dress, dance with a wrenching intensity that, hélas, cannot alter the inevitable, or break through that entrapping Elsinore-like fortress wall.
A wonderful transporting cornucopia of dance, passionate and precise exposition, music and playing that dig deep into the soul.
In rep till 30th October 2010
Reviewer: Vera Liber