Peter and the Wolf / Tales of Beatrix Potter
Choreography by Matthew Hart / Frederick Ashton
Royal Ballet
Royal Opera House
(2010)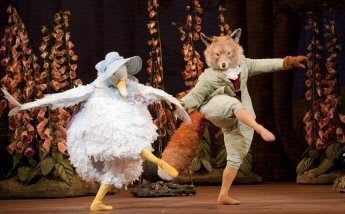 This festive season the Royal Ballet has a delectable pick and mix selection of bonbons for all ages and tastes: Faeries at the Linbury, Cinderella, and two double bills with a double dose of Tales of Beatrix Potter in the main house.
The 68-minute long Tales of Beatrix Potter has the warm-up supporting acts of Peter and the Wolf (26 minutes) for four performances and Les Patineurs (24 minutes), which opens next week, for eleven. So, take your pick, or overdose on both - it is the season for indulgence, after all.
Invited in 1994 to choreograph Peter and the Wolf for the Royal Ballet School's summer performance, Matthew Hart came up with the brilliant idea of bringing the Meadow, the Pond, the Forest, and the Wall to life.
The Meadow is six girls in luscious green; six boys with brick on head and in hands are the Wall, and the Pond is twelve girls in blue with white flowery shower caps on heads. On their backs, legs in the air, they become the Pond's fronds and swirling waters. Not quite Busby Berkeley, but a very clever and satisfying solution to showing off as many young pupils of dance as possible.
Against a blue sky full of puffed up rainbow clouds stands a large stump of a brown oak tree covered in graffiti: Wolf out! This is the safe base: here the bird, cat and Peter take shelter from the common enemy, the Wolf. Poor silly duck doesn't make it - the Wolf swallows her whole. Fortunately, this being a fairytale, the duck is regurgitated at the end, and all ends happily.
The dancing is lovely: Chisato Katsura is a sharp little cat, actor-dancer Will Kemp in good voice as the Narrator Grandfather, Sergei Polunin not a very scary Wolf (thank goodness, as there are some very tiny tots in the audience), and they all have great fun, not least the twelve well-drilled huntsmen in step to the buoyant music, but the production is a must-see for Ian Spurling's surreal costume and set designs.
From one silly duck to another... naïve Jemima Puddle-Duck being duped by Fox amongst the foxgloves in Frederick Ashton's delightful Tales of Beatrix Potter. What is there left to say about this perennial charmer a children's classic preserved in dance and on film (1971). It appeals to children and to the inner child in every adult. I still remember Michael Coleman as Jeremy Fisher all those years ago.
It puts a smile on one's face and sets one's feet tapping and itching to dance to John Lanchberry's pastiche of nineteenth century music - 'scraps of melody from various composers of the Victorian era' as Lanchberry called his made-to-measure narrative music for Beatrix Potter's child-like wonder at the natural world.
Lanchberry and Ashton worked very closely together on the creation of the Tales, and Ashton knew exactly what he wanted. He got the soft shoe shuffle for Mrs Tiggy-Winkle, the role he took himself, all swaying hips and soft arms.
But it is the duet of Pigling Bland (Bennet Gartside on pointes) and Pig-Wig (Laura Morera) that stands out in this production's smooth sequencing of Potter's Tales. You'll hear echoes not only of romantic musical comedy but also of The Nutcracker and The Sleeping Beauty. Wistful, moving, magical, two pigs dancing so delicately on pointes, so believably in love.
There is charm by the bucketful in this infectious musical cornucopia. Ashton's choreography is concentrated in the delicate footwork and gestures that define each character. With their top-heavy life-like masks, the dancers' feet and hands seem appropriately tiny for the creatures they are portraying.
This is the trick Ashton has pulled off - matching music hall, operetta, and pastiche classical music with Potter's anthropomorphised animals, and making us see beyond Rostislav Doboujinsky's amazing masks. The landscape and interior house sets are picture book enchanting and the scene changing is razor-slick.
Having eight junior associates of the Royal Ballet School as country mice who bring on and take off the picnic stuff, help Mrs Tiggy-Winkle with her laundry, and clear up after Hunca Munca's and Tom Thumb's wrecking of the doll's house is another clever use of scale - they look minute compared to the other mice, squirrels, rabbit, and pigs. So many subtle touches too - mice tails as skipping ropes, Mrs Tiggy-Winkle's gesture at the end as if to say that's all folks.
All very solicitous, escapist, embracing, and warm, with a great finale, which had the audience clapping in time - see, very music hall I can't wait to see it again.
Till 18th December 2010
Reviewer: Vera Liber