Scènes de ballet; Voluntaries; The Rite of Spring
Choreography by Frederick Ashton; Glen Tetley; Kenneth MacMillan
Royal Ballet
Royal Opera House
(2011)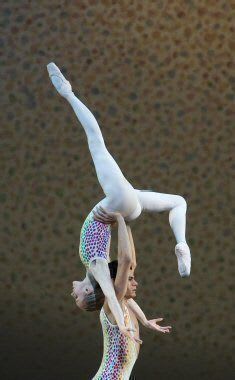 The Royal Ballet ends its 2010/11 season with a mixed bill, yet another showcase for its superlative dancers in a wide-ranging repertoire - variety for the dancers, alternating short pieces with full-length three-act story ballets, and an education for the audience.
Inevitably one looks for links and connections in a triple bill. Two use Stravinsky's music, with Poulenc's wonderful Concerto for Organ, Strings and Percussion strong in the middle. Two are by choreographers who brought a new vocabulary to dance, and one is a classical choreographer unexpectedly experimenting with form.
Sequence, shape and tempo come in to play - from the glacial to the emotional to the ritual, a gradual crescendo to fever pitch, the audience played 'like a pipe' (Hamlet's 'you would play upon me; you would seem to know my stops').
Intellectual programming, but, there is nostalgia, too... Monica Mason, who will be retiring from her artistic directorship after the next season, was The Chosen One in MacMillan's 1962 The Rite of Spring, which ends the evening with its pounding rhythmic frenzied dance, some fifty dancers flooding the stage.
Just twenty-years-old then, the demanding lead role was made on her. Unusual in its time for a woman to have such an athletic stamina-sapping role, Mason has taken that to its natural conclusion and cast a male dancer as the Chosen One in that asexual androgynous role.
MacMillan's Rite would seem to be miles away from Frederick Ashton's Scènes de ballet which opens, but when one considers the form, the shapes on the floor, that may not be so far-fetched - more evidence of the through-line from choreographer to choreographer, the heritage, the bloodline of dance. Or maybe it is the Stravinsky that links
Ashton's unexpected 1948 'study in dance geometry' follows Stravinsky's eponymous fragmented score (heard listening to the radio in the bath) precisely - in geometric grouping and floor pattern. 'I wanted to do a ballet that could be seen from any angle - anywhere could be front, so to speak.' In this instance the amphitheatre audience can lord it over the orchestra stalls.
An unemotional study - André Beaurepaire's post-war gloomy pavilion set (shades of de Chirico), the women from a fifties fashion plate - yet Ashton's irrepressible wit breaks through the froideur with cheeky borrowing from Sleeping Beauty's Rose Adagio in the grand pas d'action. Épaulements and geometric wrist-flicking moves recall marionettes, staccato automata.
Not warmly received in its day, it proved that Ashton could still surprise. No surprise though that Sarah Lamb partnered by Valeri Hristov (replacing Federico Bonelli) is crisply outstanding in this ballet for a principal couple, four men and twelve women (seasons and months, apparently). Ricardo Cervera deserves a mention, too.
But the most outstanding of the whole evening is Marianela Nuñez in Glen Tetley's Voluntaries, a dance tribute to the late John Cranko of the Stuttgart Ballet, who had commissioned it, only for it to become his sad memorial instead.
Supreme technique, total control in the slow turning pirouettes, lyrical, clean line from finger tips to toes, a softly sculpted body, she is exceptional. Rupert Pennefather partners sensitively - there are some very difficult unusual lifts - and their pas de deux are expressive and heartbreaking.
First danced by the Royal Ballet in 1976 with Lynn Seymour and David Wall in the lead - the Stuttgart Ballet's 1973 premiere cast was led by Marcia Haydée and Richard Cragun - maybe more heartfelt then, but tonight's performance is justly rewarded with an ecstatic reception.
After the mathematical Ashton, Tetley's tribute to a friend and a colleague moves the spirit and the heart. Gloriously played by Thomas Trotter, Poulenc's elegiac organ chords soar to the heavens, as do the high lifts in cruciform, the triple leaping turns, and the grandes jetés towards Rouben Ter-Arutunian's large pointilliste backcloth sun.
In silver unitards the cast of seventeen - connecting rays, sparks of humanity flashing across the stage - shines brightly. Nuñez and Pennefather bring a spiritual emotionality to rich and complex choreography. Lauren Cuthbertson (replacing Mara Galeazzi) and Sergei Polunin cut a dash in the trio with Valeri Hristov. An ecstasy of dance
From religious apotheosis to pagan rites in Kenneth MacMillan's The Rite of Spring. The riot, the booing and hissing, caused by Stravinsky's music and Nijinsky's choreography in 1913 in Paris are well-known, yet today when the opening solo bassoon notes are played they are so familiar they send anticipative shivers down the spine.
A bold dramatic work Stravinsky's composition is boldly served by MacMillan's choreography and his designer, the Australian artist Sidney Nolan - ochre, red, brown body suits covered in primitive hand prints, faces painted white with tribal markings - borrowed from Aboriginal body art works - and a floor cloth covered in concentric circles and lines.
Like a swarm of ants, the tribe moves as one across the stage, makes strange shapes with its up-ended beetle bodies. This is back to the beginning of time (and back to Nijinska's Les Noces ). Crashing chords and dissonance alternate reflective moments, anxiety attacks and collective flight. Playful leapfrogging turns into spinning and hopping and then into solid powerful threatening simian moves.
A blazing bronze Aztec discus sun to which the ceremonial sacrifice will be made is the dominant symbol of the second part. Dancers carpet and swim across the floor, and frieze-frame the stage in columns, long domino snaking lines, and ritualistic circles. The male victim is prepared. A pyre of bodies ejects his up to the light.
Edward Watson and Steven McRae alternate the Chosen One role. I saw the evening performance with the English Watson, the same day matinee first cast opened with the Australian McRae. I was strangely unmoved. An amazing visual spectacle, but after Tetley's touching Voluntaries it was an anti-climax, when it should have been the reverse. The heart seems to know best.
In rep till 11th June 2011
Reviewer: Vera Liber