The Sleeping Beauty
Choreography by Marius Petipa, music by Pyotr Il'yich Tchaikovsky
The Royal Ballet
Royal Opera House
(2009)

Listing details and ticket info...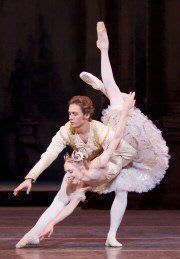 A pre-Christmas treat for ballet fans, and a must for classical ballet initiates - Sleeping Beauty's fairytale world never ceases to delight, and its exquisite choreography still astounds in its demands. A supreme test of the dancers - of their stamina and technique, their partnering and characterisation, their musicality - their efforts must not show as they crest on Tchaikovsky's spine-tingling symphonic music and Charles Perrault's tale of goodness triumphing over evil even if it takes a hundred years.
A hundred, and more, years after its 1890 premiere in St. Petersburg, Petipa's Sleeping Beauty was given fresh life by Monica Mason and Christopher Newton in their 2006 revival of the Ninette De Valois-Nicholas Sergeyev-Oliver Messel 1946 production which appropriately reawakened a damaged Royal Opera House after the war. It continues, in its 819th performance, to enchant and give joy and pleasure to many. It will carry on doing so - a failsafe stalwart of the Opera House repertoire.
Oliver Messel's original designs reworked by Peter Farmer in delicate pastel shades give the effect of entering a hazy fading picture book baroque world. And Petipa's showcase, with seamless additions from Frederick Ashton and Anthony Dowell, has a new garland dance from Christopher Wheeldon. From Petipa's Imperial splendour to Diaghilev's lavish daring, from the Kirov reconstructions to the present day, each age has its own. The tradition continues; the succession is assured.
This season, in twenty-two performances of The Sleeping Beauty, the Royal Ballet reveals its company's crown jewels by presenting eight diverse couples as Princess Aurora and Prince Florimund, and many stars in the making in the smaller roles. Of course, each interpretation will be different, of course one has favourites, and of course, time and money permitting, one would like to see them all.
The first night choice of pairing was American Sarah Lamb with Ukrainian Ivan Putrov. Lamb, a marvellous Marie Larisch in Mayerling, only recently back after injury, starts off tentatively, but grows in strength and assurance, casting aside her cautious shy sweet sixteen-year-old Aurora in the final triumphant act. Putrov (also back after injury), a handsome attentive prince, gives a soulful solo in dreamy Act Two, but seems a little shaky in the grand pas de deux. A radiant Marianela Nuñez, on the other hand, has complete dazzling control of the Lilac Fairy.
Carabosse, as played by character dancer Genesia Rosato, is no cross-dressing pantomime villain but a beautiful fairy turned spiteful and gothic, Gary Avis is a reassuringly reliable French Prince, and Sergei Polunin is an outstanding Florestan. Yuhui Choe, Hikaru Kobayashi, and Helen Crawford make light work of the difficult fairy solos on pointe. Laura Morera is on sparkling form in the Bluebird pas de deux, though Steven McRae is not his usual buoyant self, and Iohna Loots (who reminds me of a young Lesley Collier) and Ricardo Cervera make a charmingly skittish White Cat and Puss-In-Boots.
An escapist warhorse of a ballet, this anglicized Russian Imperial ballet in three acts and a prologue, based on a seventeenth century French fairytale, with brilliant music, and glorious spectacle, gives the dancers opportunity to present themselves to advantage. A huge undertaking, but what rewards
In rep till 23 January 2010
Reviewer: Vera Liber