Haunted
Edna O'Brien
Royal Exchange Theatre, Manchester
(2009)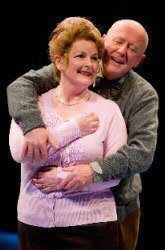 Brenda Blethyn returns to the Royal Exchange to play a character written specially for her by Irish playwright and novelist Edna O'Brien, directed by founding artistic director Braham Murray.
In a rather sparsely-furnished house on the outskirts of London, Mr Berry is instantly infatuated with Hazel, a shy young woman who has come to collect some clothing, and when he finds out she teaches elocution, the poetry-loving old man uses this as an excuse to get her to return regularly. He starts to give her presents of expensive clothes and jewellery, but when his wife – who is not dead as he has led Hazel to believe – starts to notice her diminished wardrobe, she confronts him and gives hints about previous infidelities.
On the surface, this is a touching and often very funny tale about three imperfect people living their lives, sometimes happily and sometimes not, and trying to make the best of things. Behind this, there are many other layers, however. Mr Berry's love of language is reflected in the way he and Hazel luxuriate in the words of Shakespeare and other poets, but also in his manipulation of his wife's sympathy with his lies and their constant power struggles through words. Their childless marriage is mentioned wistfully once or twice, and there are echoes of this in the doll that overlooks them from a shelf constantly, Mrs Berry's employment in a doll factory, Mr Berry's propagation of flowers as a hobby and to some extent his desire to adopt fatherless Hazel as a daughter, although there is undoubtedly some unfulfilled sexual desire on his part in that relationship.
These three beautifully-drawn characters are played perfectly by Blethyn as Mrs Berry, Niall Buggy as Mr Berry and Beth Cooke as Hazel, becoming rounded human beings with all their charm and imperfections and never descending into comic types as they easily could. Blethyn is in many ways playing a typical Brenda Blethyn character, but she does it so well that it fits perfectly into the piece – and it was, after all, written for her.
Simon Higlett's design is suitably sparse with a smattering of old-fashioned furniture, but the clear perspex door and shelf, whilst understandably done for reasons of visibility on this in-the-round stage, have a hi-tech modern feel that clashes with everything else. The projections between scenes of flowers opening and cells dividing shone straight down onto the stage are quite nice and reflect some of the themes of the play.
This is a lovely new play, subtly directed by Braham Murray and with three equally great performances and, despite being set in England, a very Irish feel of longing and regret cut through with sharp Irish humour.
Ian Hill reviewed this production in Belfast. It was also reviewed by Allison Vale in Bath.
Reviewer: David Chadderton