Henry V
William Shakespeare
Royal Exchange Theatre, Manchester
(2007)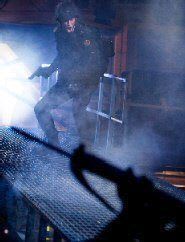 Jonathan Munby returns to the Royal Exchange—he previously directed Mirandolina there—with Shakespeare's Henry V.
Munby's production, designed by Mike Britton, takes place on a huge curved metal grid and is performed in modern dress, all dressed in black like a bunch of stage hands for the prologue and then changing into suit and tie or military uniform for the meeting at court. The suits, very similar to those worn by many audience members, do make the scene look more like a middle management meeting than a king planning to take his country into a major war. The price of finding modern equivalents to the medieval courts in Shakespeare is often a loss of gravity and grandeur and of the feeling of how high the stakes are and the price of failure.
Elliot Cowan makes his Royal Exchange debut in the title role; whilst his 'new boy in the job' uncertainty at the beginning may be slightly overplayed, he soon grows into the role and becomes a strong and intense king. His "once more into the breach" speech to rouse the troops gets a little lost at the start as it begins rather tentatively amongst lots of movement, explosion sounds and the dripping of water from the rising platform, but his St Crispin's Day speech manages to be more stirring. After all of the shouting and battling, he manages to get a great deal of comedy out of his inept wooing of French princess Katherine towards the end.
The whole production is held together narratively by Gerard Murphy, as both the chorus and Exeter, who does an excellent job and looks like an old sergeant major. There are many more commendable performances in this sixteen-strong cast, including Mark Arends as Montjoy, David Collings as the French King in a wheelchair, Claire Cox who is excellent as Katherine, Mark Hayward who is very funny as talkative and proud Welshman Llewelyn and Tom Vaughan Lawlor as a very impulsive and angst-ridden Dauphin.
There are some very impressive visual elements to the production, including a huge metal ramp that lifts up and cascades water from it to become a bridge into battle and then flies out completely for a wonderful image of soldiers wading through a wet and muddy trench with rain and mist cascading down upon them. Dominic Haslam's music is striking and effective with lots of Latin chanting with superb live percussion played by Damien Harron, and Steve Brown's very loud battle sounds (guns and bombs, not swords and horses) bring the audience right into the heart of the fighting.
There are some very impressive elements to this production, but the meaning of the words is often lost in the flat delivery of the verse and there is very little emotion in the whole play apart from battle-hungry anger, so, for instance, the scene when Henry condemns the be-suited traitors to death in court, it comes over more as though a project manager has had his proposal rejected. Both of these can make the production drag, which is a shame as the elements that are good are very good indeed with an excellent central performance from Cowan.
Running until 20th October
Reviewer: David Chadderton