Private Lives
Noël Coward
Royal Exchange Theatre, Manchester
–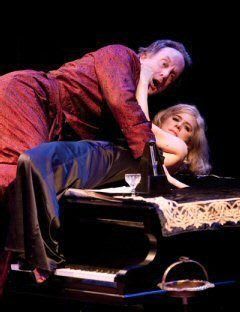 Less than a week after Oldham Coliseum's production of Private Lives ended, the Royal Exchange Theatre opened its own production of the same play with Michael Buffong, director of last January's multi-award-winning production of A Raisin in the Sun at the Exchange, at the helm.
Coward's unlikely tale of divorced couple Elyot and Amanda who find themselves in adjoining rooms sharing a balcony when both are on honeymoon with their new spouses—Elyot with his much younger new wife Sibyl and Amanda with the blustering Victor—takes an unexpected turn when the violently bickering ex-couple decided to re-couple and abandon their new marriage partners, hiding out in Amanda's flat in Paris. The question is, have they matured enough in the five years since their separation to rekindle the passion of their love but not the ferocity of their arguments?
Director Michael Buffong has once again proved his skill and versatility—he has previously directed Six Degrees of Separation as well as A Raisin in the Sun for the main house at the Royal Exchange—with a slick and very funny production of this Coward classic. It doesn't quite get over the dip in pace in act two inherent in the script when nothing much happens for a long time but it deals with it as well as any production, and, when the final fight happens, directed by Kate Waters, it is literally explosive as two lamps blow up when they are knocked over and the stage is filled with feathers, playing cards and broken furniture.
Ellen Cairns's design gets around the problem of the balconies in the Exchange's in-the-round stage by making them a sort of garden with an s-shaped hedge dividing the two halves, which works very well. Her design for Amanda's Paris flat looks perfect, but the moments in the final act when the sofas are supposed to be pushed up against the non-existent doors do not work at all and is a little confusing.
Imogen Stubbs is absolutely wonderful as Amanda, wringing every ounce of comedy out of this impulsive, irresponsible and rather selfish character, but she is certainly matched by Simon Robson on top form as the cynically witty Elyot. Joanna Page plays soppy Sibyl perfectly and only rarely betrays traces of her Welsh accent amongst the clipped Coward vowels and Clive Hayward has all the bluster and posturing required for Victor to get the most out of the humour. There is even a very funny if very short performance in act three from Rose Johnson as French maid Louise.
This is pure entertainment judged perfectly by a wonderful cast and an intelligent and talented director with lots of very funny comic business that goes beyond Coward's hilarious script but which fits perfectly within it. It's so much fun, you'd be a fool to miss it.
Until 9th April
Reviewer: David Chadderton